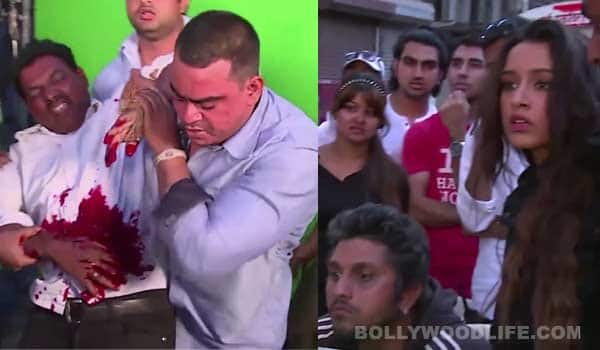 The Aashiqui 2 actor hurled abuses on the assistant directors. Even Mohit Suri and Sidharth Malhotra were unable to pacify her. Read on to know how all of it happened…
Accidents have been common in Bollywood movies and many a times actors have to face mishaps, but this one surpasses them all. In a tragic incident Shraddha Kapoor recently stabbed a stuntman on the sets of Mohit Suri's Ek Villain. Although it seems to be an accident, but the police and the junior artists union have not taken it lightly.
Our khabroos informed us that everyone was shocked at the incident and the shooting had to be halted as there was lots of commotion because of the stabbing. People on sets couldn't just accept the fact that Shraddha would get away after stabbing the stuntman just because she was a famous celebrity. The stuntman was bleeding profusely and people had to carry him out of the sets and rush him to the nearby hospital.
Shraddha seemed to be most traumatised as she witnessed the stuntman bleed and go unconscious. In a scene from the film, she had to stab a stuntman with a knife but somehoe the knife was changed and instead of a fake knife there was a real one. The making cameras kept on rolling and the whole footage was captured. It shows Shraddha shivering with shock and disbelief. Siddharth Malhotra and Mohit Suri also try and pacify a belligerant Shraddha and explain to her that all will be good and she wouldn't have to go behind bars as it was an accident. Shraddha is seen hurling abuses at the assistant directors as well. Shraddha was completely fear stricken as she was unaware of tehf uture course of action. The videos have already gone viral, but there is a twist to the story. Want to know what? Read on…
The whole thing was planned by MTV Jhand Hogi Sabki, a show which is considered as the revival of MTV Bakra. The show is an Indian adaptation of MTV Punk'd, and will have five episodes featuring celebs like Shraddha Kapoor, Varun Dhawan, Nargis Fakhri, Ekta Kapoor, Anu Malik and some others as well. The show will be hosted by Siddharth Gupta, the lead actor of Ekta Kapoor's upcoming film Kuku Mathur Ki Jhand Ho Gayi. The show will replace MTVs most hit show Roadies and will be telecast from this saturday at 7 pm.
So BollywoodLifers, go ahead and check Shraddha Kapoor stabbing stuntman, and beware other celebs as MTV might just be planning a Jhand on you as you read this article.