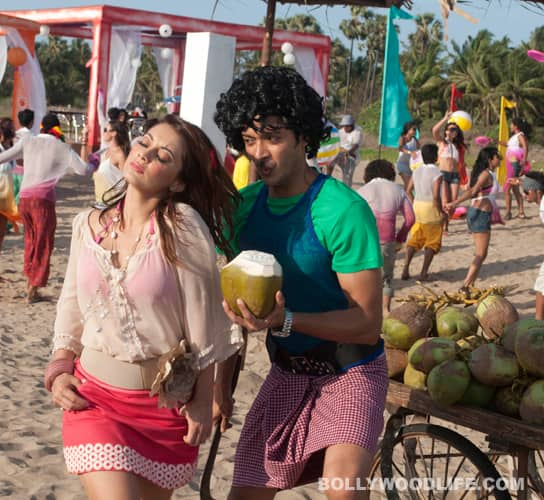 The young actor says his look in Hum Tum Aur Shabana is inspired from Bachchan's look
Shreyas Talpade is super excited. Why? He has just recreated the avatar Amitabh Bachchan donned in Desh Premee in his upcoming film, Hum Tum Aur Shabana. Shreyas dressed up as a coconut seller – complete with the miniature goatee, black belt and lungi – just like the one Amitabh wore in the song Tane din tandana.
While Amitabh wooed Hema Malini in the song, Shreyas tries to woo Minissha Lamba at a beach. The makers of the film are touting it as a "fun recreation" that is "sure to garner a lot of laughs" and how Shreyas was quite glad doing it as he is a huge fan of Mr Bachchan and the song. So why are we unhappy? Anyone who has watched Tane din tandana or even heard Amitabh talk about it knows that his act was inspired from another classic song, Hum kaale hain toh kya hua, featuring Mehmood and Helen. Everything – from the costume to that moustache – was a tribute to Amitabh's good friend Mehmood. It's really sad that the younger generation of actors has forgotten the great comic actor's contribution to Hindi cinema. Shreyas, tsk tsk.