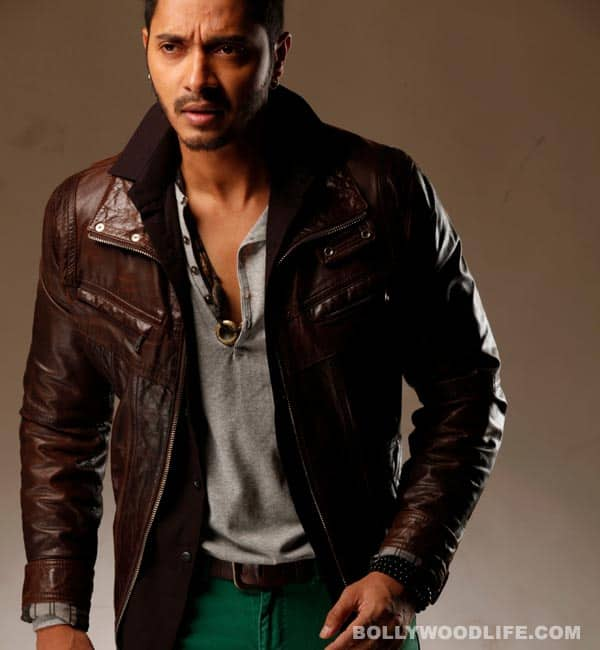 But can every actor manage that? The Joker actor Shreyas Talpade talks about his forthcoming movies, Shirish Kunder's alien drama and Priyadarshan's Kamaal Dhamaal Malamaal, and his roller-coaster ride through B-world
Actor Shreyas Talpade has never had a dry spell when it comes to work. Every year he's been part of at least one release. Some were debacles – like Will You Marry Me? and Teen Thay Bhai – while others were blockbuster comedies – like Housefull 2 and the Golmaal series. In today's calculative times this would be considered a fair if not great track record, but not when it comes to the actor who shone as the deaf-mute Iqbal, and made his mark as an aspiring novelist in Welcome to Sajjanpur.
Despite consistent performances, no matter whether the film was a dud or a hit, the 35-year-old is seen most often sharing screen space with bigger names, as part of a franchise multistarrer. While the trite plots of these may not push his limits as an actor, big box office collections have made him a member of the new elitist clique in B-town – the Rs 100-crore club.
"Films making Rs 100 crores is a good thing, I am happy my films have made such money, but I don't think that only if a film make Rs 100 crores, it's a good film. That's not right. It's good that 3 Idiots set a benchmark of Rs 100 crores, but these numbers can be manipulated! Having said that, I think what's important is that families should go and enjoy the movie," says the actor, who has been married for some years now to Deepti.
The Mumbai born and bred Shreyas' next film is Shirish Kunder's Joker, in which he plays Babban, Akshay Kumar's younger brother. Ask him what he is doing in the alien drama, and he says, "My character is of a whacky guy. I don't have any dialogue in the film. I speak gibberish that only my brother, father and best friend can understand." When we spoke to the film's stylist Rick Roy, we discovered that Shreyas's character is one of the most ridiculously dressed in the entire plot. And mid-way through the shoot, the colourful Babban became one of the favourite characters on the sets.
The script's madness must have appealed to Shreyas, no? "Shirish Kunder came to me and before the narration told me that my character doesn't have any dialogue in the film," he explains, "so it was a challenge to play the character the way I wanted. He told me that if Babaan works, it would because of me and if it doesn't, it would be my doing too. Also, it's Farah's (Khan) production – that makes it like a family thing, so I couldn't say no."
It's challenges like these that make Shreyas accept a film. But what was the challenge in Kamaal Dhamaal Malamaal, sequel to Priyadarshan's previous hit film Malamaal Weekly? "Sometimes I do get bored doing comedies and hope to do action and drama, but then I also know that every script, character and director leads to a different experience, so it's challenging."
Shreyas explains, "Like Housefull 2 was the slapstick genre, but Priyan sir's films are different from Rohit's (Shetty) or Sajid's (Khan). KDM's story is about a loser who is over-smart and then how be becomes a hero. Priyan's comedy is humourous, but more real and not over the top like Housefull 2. But I am also doing a horror film and a tri-lingual thriller. So I try to keep it interesting for myself as well." He adds, "After Iqbal and Sajjanpur, I think KDM is one of the most difficult parts, 'coz the film's plot revolves around my character."
Back in 2005 the talented actor originally from Marathi cinema moved to Bollywood. "As long as I am not thrown out of the industry, it's good. After Golmaal Returns did well, I started getting offered a lot of comedies. Since I didn't have a godfather to guide me, I did some films for friends and others hoping that it would work well for me."
Shreyas says, "Right now I am quite happy with these two films (Joker and KDM) and the ones I am shooting for. But over the last two or three years I wasn't happy with anything I did. I hold myself responsible for that. Some films did well, some didn't, but I have realised I should not listen to anyone else. I want my success and failure to be mine and only mine."
Every aspiring actor, before witnessing the harsh realities of filmdom, sets eyes on the coveted position of country's top superstars, aspiring to be an Amitabh Bachchan or a Shahrukh Khan. And Shreyas must have gone through it too. "Yes, everyone wants to be a Bachchan or SRK when they start out, but one has to realise that those stars didn't reach that position in one night. And each actor has different strengths. We all have our own identity and audience. We should work on our strengths."
For now Shreyas is cashing in on his comic timing. But before the gags stop being entertaining, we look forward to a new Iqbal or Sajjanpur that will cement his position as an actor of note in the star-studed galaxy.