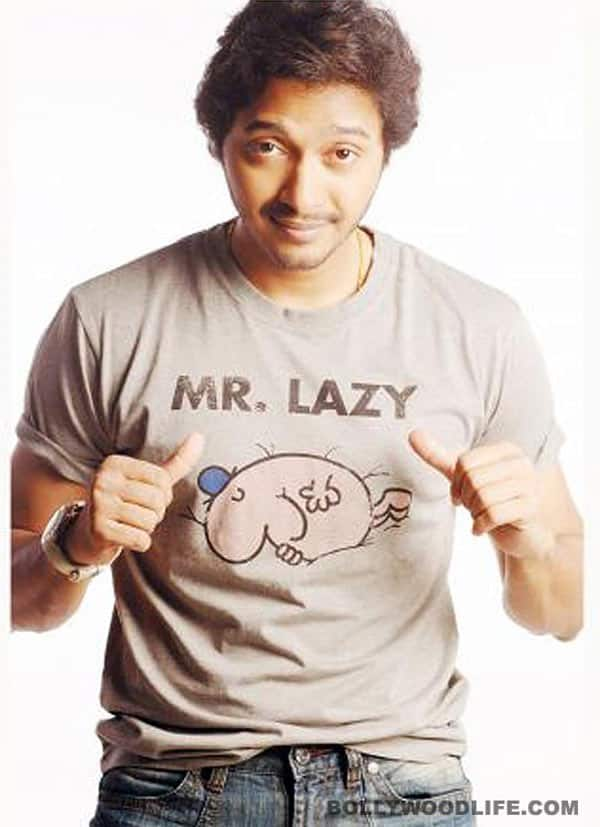 The actor, fresh from the success of Housefull 2, chats about doing a string of comedies and his yearning to do serious cinema
When we walked on to the sets of Priyadarshan's Kamaal Dhamaal Malamaal, we saw an excited Shreyas Talpade, dressed in a white robe, jumping around trying to find an escape route. Meanwhile newbie Madhurima, who is cast opposite Shreyas in this comedy caper, was trying to match his energy. He finished the shot in one take and came out to see it on the monitor.
Shreyas is not one of those actors who sneaks back into his vanity van once his shot is done. He hangs around on the sets interacting with the crew and production members, sharing a joke or two while he waits for his next shot. We got hold of the Housefull 2 actor in the middle of one such shot change and he was only too happy to oblige with a chat.
So what's the sequel to Malamaal Weekly going to be like?
Priyan Sir doesn't like me calling it a 'sequel'. He has even said in a media interview that it is not a sequel since it has a completely different storyline. Om Puri, Paresh Rawal and Asrani Sir are common to both the films. Nana Patekar, Madhurima (the lead actor) and I are the new additions to the cast. The film is not a continuation from where he ended the last part, so he decided to not call it Malamaal Weekly 2. Instead, he called it Kamaal Dhamaal Malamaal.
What's your role like?
It's probably one of my most difficult till date. It's a very tricky part. He's a lazy bum, a loser, a doormat or a carpet…whatever you'd like to call him. He thinks he is smart, but he is not. He's clever, but not too intelligent. His nickname in the village is bakri. It's a tricky role and the film revolves around him. The amount I have learned on the sets of this film is unbelievable! Have gained so much from working with Piryan sir and Nana Patekar. I have never learned so much during any other film.
You are an actor who has worked in comedy films with Rohit Shetty, Sajid Khan and now Priyadarshan? How different are their schools of comedy?
I came on the sets of Malamaal immediately after Housefull 2. Sajid is a completely over-the-top kind of a guy. He loves those kinds of comedies. He likes all his characters to be at their loudest best. So when I came here, for about a couple of days I was trying to figure out what bit me.
Priyanji is so earthy and rooted. His humour is more genuine. It is more about the situations than the characters trying to create comedy. He is not into that. During the initial days of the shoot he said to me, 'No…you are not doing Housefull 2'.
How do you feel about the success of Housefull 2? Your last big hit was also a comedy…
Very very happy…Yes, my last hit was Golmaal 3. I think people are not idiots. If they don't like the film, they will give their verdict. What they would have liked varies – it could be the story, the punches, the comedy or whatever little story it has. If my film works, I am happy. As an actor, even when you are doing one comedy after another, you feel good that you work with a Sajid Khan and then you work with a Priyan Sir. They are two completely different genres in that sense. It becomes challenging for an actor to get out of a film and then immediately get into the skin of a new character.
Have you reached a comfort zone with comedy now? You've done a string of comic roles…
No, no…it's not like that. The day I get fed up of it, I'll not do it. For instance, Malamaal is not just a comedy…and even Joker. The graph of the character is what made me do these films. Humour is important in these films, but drama and emotions are equally important. There is some amount of action as well.
Probably these two films will take the audience a little away from comedy and they'll see me as slightly more serious actor. It will be closer to what people have seen me do in Iqbal or Dor.
But people have started perceiving you as a comic actor….
After Iqbal, people thought I was a serious kind of actor. A couple of directors said 'Tu comedy nahi kar sakta, tu serious actor hai' (you can't do comedy, you are serious actor)'. Comedy wasn't new for me. I had comedy on stage, but because of Iqbal people felt I was suited for serious roles.
A lot of people come to me and ask me 'When are you doing to do a role like Iqbal again or a role like Dor again'. It feels good that they want to me do something like that.
Do you enjoy comedy?
Comedy is difficult to pull off. I personally like drama and emotions. I can't be eating chicken every day; sometimes I'd want to eat paneer or aloo ki sabzi. Comedy is like chicken to me at the moment. Right now I'm enjoying it. The day I am not, I'll move on to something else.
READ MORE:
'Housefull 2' gets the second biggest opening of the year
READ OTHER INTERVIEWS:
Vikram Bhatt: Paoli Dam in 'Hate Story' wants revenge, not sex