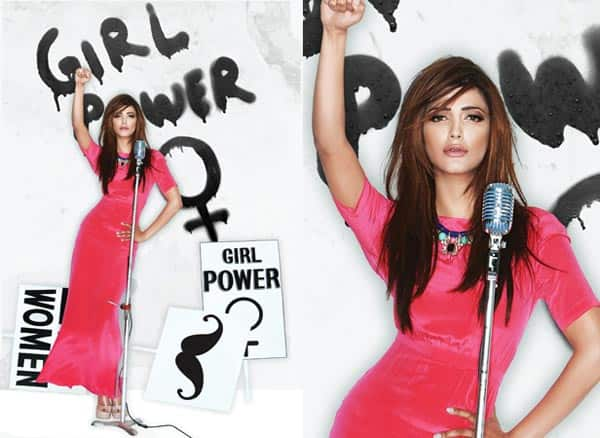 The Ramaiya Vastavaiya girl leaves us craving for more with her latest photocall
In her latest photoshoot for Filmfare, Shruti Haasan has revealed the feminist in her. Through her photos, the lovely girl has portrayed various aspects of girl power. Posing in a V-necked black and white dress, Shruti holds a baseball bat in her hand and a stern expression on her face. Though we can read 'peace' in the backdrop, one thing's for sure that this girl won't rest till she gets what she wants.
Shruti blends haute and hot in her photoshoot! In one of the pics, she's sporting a peach colored satiny gown, in which she looks irresistibly sexy yet elegant holding a banner which reads 'women rule!' No doubt about that after looking at this shot! In another photo, the young girl poses with a hand speaker sporting a teeny little peach skirt teamed with a short top baring her mid-riff. Her orangey-red pout calls for attention and it looks like she's trying to say wear what you desire and shout out what you want! It's a very creative photoshoot as each photo delivers some message. What more, the Ramaiya Vastavaiya girl, dressed as a jail inmate also comes forth as a sexy lass! With this image, we guess, Shruti is trying to say that she's all set to go behind the bars in her fight for girl power.
Shruti Haasan has maintained poker straight her throughout the photoshoot. She's let her hair loose in most of the shots, except the one in which she's ready to punch and the one in a jail-uniform-like outfit. Apparently, in these shots, with the hair tied up, she's trying to convey the message how she feels tied down while trying to support her cause… Nice one, no? Her makeup too is immaculate, enhancing her sharp features in a way that she looks sensuous and classy all at once!
As we agree with Shruti, women rule, we'd love to add that this shoot is something different. Very thoughtful and we love it! Way to go, girl!