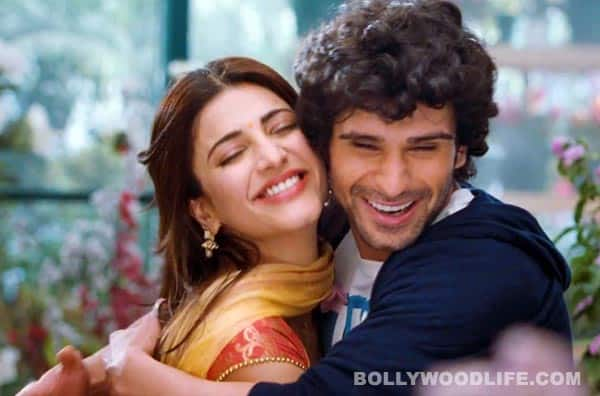 The sexy siren of Ramaiya Vastavaiya is annoyed with Girish's histrionics. Our lost in translation efforts could be equally nerve-wracking. Take a look!
The latest song Hip hop Pammi from Shruti Haasan and Girish Kumar's forthcoming venture Ramaiya Vastavaiya is already moving up the popularity chart, thanks to its quirky lyrics. In the video, we see the newbie Girish trying woo his lady love with his unimpressive dance moves and histrionics. We tried to translate this number into English just to see if we can match up to Kumar's madness but our humble efforts got lost in translation and how!
Pa pa pa Pammi
Tu meri History Tu Philosophy yu Loveology
Pa pa pa pammi
Are sun yeh meri gal
Chal mere naal chal
Ban tu meri soni girl
Pa pa pa Pummy
O bajne de dhol oh girl
Aa mere naal oh girl
Bajne de dhol aa meri girl
Sun dil ke bol ab tu
Pa Pa Pammi
You are my history, you philosophy you loveology
Pa Pa Pammi
Hey listen to my problem
Come with me come
Become my good girl
Pa Pa Pammi
Oh girl let the dhol hit
Come with me oh girl
Let the dhol hit, come my girl
Listen to heart's word you now
Kar Le Na Hip Hop Hip Hop Pammi
Kar Le Na Hip Hop Hip Hop Pammi
Do it no hip hop Pammi
Do it no hip hop Pammi
Now Shruti doing Hip hop has certainly made us go bonkers. You tell us BollywoodLifers, if you too are impressed with the babe's charming persona in this Pummy number?