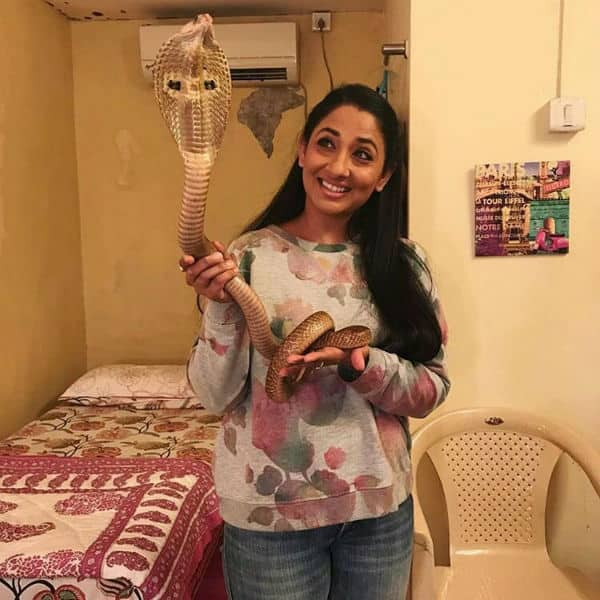 Why do people even try to mess with the wildlife? In a shocking turn of events, Jamai Raja fame Shruti Alfat has been arrested for illegally posing with a cobra. Yes, turns out she shot with the rare specie for her ongoing show Nagarjun Ek Yodha but things got worse when she further posted a video of the same on Instagram. Sunish Kunju of PAWS instantly decided to raise this issue to the forest department for forensic investigation. Following which, Shruti along with three other members from her production team –  Nitin Solanki, Utkarsh Bali and Pearl Puri were arrested and been booked under the violation of sections wildlife act 1972 -Sections 9, 39, 48a, 51.
The complainant revealed how the production team kept misleading the forest department just to hide the fact that they had shot with a real snake. He said, "If such acts are performed by television personalities it will only promote capturing snakes and making such videos. We also want the forest department to arrest the main culprit who provided the snake as it was not only extremely risky for people but also traumatising for the snake."
Here check out the video and we bet you are going to be equally furious:
Ths is d video that got Shruti Ulfat in trouble nd angered animal activists who complained 2 forest dept @PAWSMumbai @RAWW_TWEETS @dna pic.twitter.com/FBdAwfTXFU

— Virat A Singh (@singhvirat246) February 8, 2017
Pawan Sharma, the founder of RAWW, a wildlife and environment conservation NGO too took to Facebook to express his angst as he wrote, , "Actress Shruti Ulfat and three others from NagArjuna daily soap booked by Mumbai Range of Thane Territorial wing of the forest department for using Spectacled Cobra, protected species under Wildlife Protection Act, Schedule 2. They were produced in court yesterday and court gave forest department their custody for a day to know and find the people who supplied snake to them. They will be produced in court again today. When I had assisted the Anti Poaching Unit of the Forest Department for primary investigations at the Film City in October last year the actress made us wait for an hour with her rude staff which did not cooperate and all of them had misled the forest department stating that it was VFX /Graphics and not a real snake. However forensic reports in January this year revealed that the snake was real and the responsible people have started facing the heat. Posing for entertainment with a protected species which is one of the top venomous snakes of the country is unethical, illegal and misleading."
It's left to see what turn does this case take hereafter. Your thoughts? Tell us in the comments below and keep watching this space for latest updates.