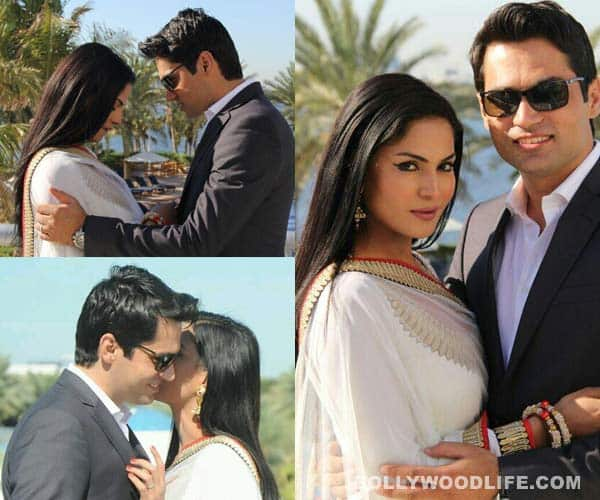 skip advertisement
You don't associate the word 'shy' with the starlet under normal circumstances. But the Pakistani bombshell showed her soft side at her wedding in Dubai and left us shell-shocked! Is this the same Veena we know, the gal who dropped her clothes at the blink of an eye?
You remember how Veena Malik was introduced to India, right? The Pakistani pataka made it straight into the headlines with her alleged involvement in the notorious match-fixing saga four years back, where her then-boyfriend Mohammed Asif was indicted. Soon after, Veena made it into the Bigg Boss house (season four) – that move made her a household name in India. The babe was seen coochie-cooing on national television with Ashmit Patel on the popular show and made us cringe with collective disgust.
And then she headed straight down notoriety street. Veena did a nude photoshoot with a popular men's magazine and dared to bare unapologetically, but then refuted her nudity and the offensive symbolism associated with the pictures. She heightened the resulting hysteria further by wiggling her bosom with light bulbs mounted on her B-grade choli in an item song or two. And she was photographed with a small time director in too-close-for-comfort poses while reportedly high at the launch party of one of her horror (read: horrifying) films!
So when you see the same controversially colourful starlet showcasing an unseen and totally unexpected shy side – which, by the way, seems as fake as her Lahore-meets-London accent – it is bound to send some shock waves through your curious minds. The garish, loud, over-the-top, in-your-face Veena Malik has suddenly transformed into a shy and subservient biwi after her recent marriage to Dubai-based entrepreneur Asad Bashir Khan Khattak. And what a transformation it has been!
Take a look at these pictures from Veena's reception in Dubai and tell us: If she was such a fabulous actor, why did the Bollywoodwalas refuse to give her any really meaty roles?