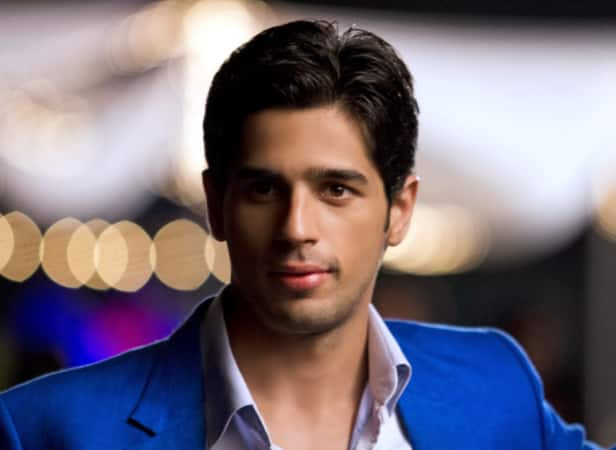 Greeting us with a firm handshake at the Dharma Productions office, The Villain actor talks about how 'senti' his character from Hasee Toh Phasee is, his co-star's diet of kakdi and tamatar and what happens when a romcom is not a romcom…
One film old Sidharth Malhotra exudes a confidence that is par excellence and awe-inspiring. He talks about how different Hasee Toh Phasee is from Student Of The Year and how he always wanted to be a solo star in a film. Excerpts from a tête-à-tête…
Tell us about your character in the film…
I am playing a guy called Nikhil Bhardwaj. He is not the typical hero kind of guy. He is not doing so well. He is running an unsuccessful event management company. He is not making so much money in life. He has been pressurised to make a certain amount of money by his family, friends and especially his girlfriend. At the same time he is also trying to figure out his goal in life. He is not the typical go-getter kind of guy and he is not a bad person at heart. He might speak rubbish about somebody, but he would not harm anybody for his own profit. We have tried to make a romcom between two hatke characters and not between a hero and a heroine.
You term the film a 'romcom', whereas Karan Johar insists it should not be called that….
As I said, it is a romcom between two characters and therefore it is not like the typical romcom where there is a hero and heroine and then the villain takes her away and the hero saves her. It is different, as the two characters are different. Everyone has those 'not so successful, not so likeable' kinds of people in their family or friends circle. Vinil Matthews has tried to show a romance between these two characters who are definitely way different from a mainstream hero and heroine. It about how these two not so likeable people meet, spend seven days together and fall in love.
What is so 'senti' about your character?
The sentiness comes into his character because nothing in his life is going correct. He has so many grudges in life and he yearns for so many things and all that makes him sentimental. Even after having all these issues he is someone who would not harm anyone. He starts feeling bad about Parineeti's character and becomes very emotional and 'senti'. That's how he slowly starts getting attracted to her.
This is your second film with Dharma Productions….
(Cutting in) Actually, this is a film by Phantom Films. Dharma Productions is just a backing studio and they are only doing marketing for the film. The production, script, direction… everything came from Phantom Films. Only now we have come to Dharma Productions for their marketing skills. Phantom came to Dharma with the script and they specifically asked for me. Karan asked me to meet Vinil and have a better knowhow of the script. That is exactly what I did and everything started falling into place.
So people came to watch your first film as it was a Karan Johar film, but now people will come to watch a Sidharth Malhotra film. Does that thought scare you – that now you have to drive the film and people will come to watch you?
Actually, more than scary, it's exciting. We all are in this business for this. We all want to have solo releases eventually and today I have got my chance. Obviously there is pressure for performance and you are always nervous whether the film would work or not, but that thought lingers in your head for every film. More than anything it is a Friday that I have been waiting for since a long time, as it is my first solo release. Hopefully people will like me, as I have tried to do something different from Student Of The Year.
So you mean to say that it is a content driven film?
It always is. I mean, we don't have great locations, we don't have great costumes and we don't have extravagant sets. The only thing that's driving the film is the content and how quirky these two characters are. It is like how two black sheep of the family end up meeting and falling in love. The quirkiness in the writing is the USP of the film.
So do you think your first film was not content driven and was just a KJo movie?
You got me wrong. I meant that SOTY was so much more than content. It had the glitz and glamour, the locations, the visuals, great frames and so many amazing things. In Hasee Toh Phasee we didn't have that much money to shoot.
Tell me something that is quirky about Parineeti's character…
There is a lot of quirkiness in her character. She keeps tripping between these two personalities and there is a specific reason for it that I can't reveal. She eats toothpaste, she makes strange noises at times, she laughs weird and she has crazy eyes. There is a lot of quirkiness in her character.
Parineeti Chopra: I am overweight, but not as much as Sonakshi Sinha!
And what about Parineeti as a person? Tell us about one quirky habit of hers…
Parineeti is obsessed with mouth sprays for some weird reason. Each time she used to use her mouth spray, I used to get confused, thinking whether there is a kissing scene that I don't know of, and she might be preparing for it. Although it is a good habit, once it becomes obsessive it's not so cool any more. And yeah, recently she has started some more quirky habits. She has started eating a lot of kakdi and tamatar, which is a good thing as she wants to lose some weight. She has also stopped eating pizza which was a common part of her diet. So we have this quirky deal that I will give her workout tips and she would teach me to speak theth Punjabi.
As Karan would put it in Koffee With Karan, who among your three co-stars has a brighter future—Alia Bhatt, Parineeti Chopra or Shraddha Kapoor?
(Laughs) Actually, I am more concerned about my future and I feel I have the brightest future and not these girls.
That is so very diplomatic…
No, really! I am just two films old and am very concerned about my own future in the industry – and too busy to keep thinking about these girls. And it holds the same with Alia, as we have just seen the tip of the iceberg. There is a lot more to her acting and I guess once Highway and 2 States are out, everyone would have a different perception about her acting abilities. So you should wait and watch out and maybe next time you meet me we could decide on who among the three is a better actor. (Laughs)
Finally, how does your future look?
I am presently shooting for The Villain, which is Mohit Suri's next. It is way different from this film. It is an intense, dark love story and also has a bit of action. Everything is very emotional and very dramatic in that film. The character is very aggressive and I am not playing the villain in the film, as you might think. The film tells us that everybody has a dark side to them. So these are two very different films that I am coming up with this year.