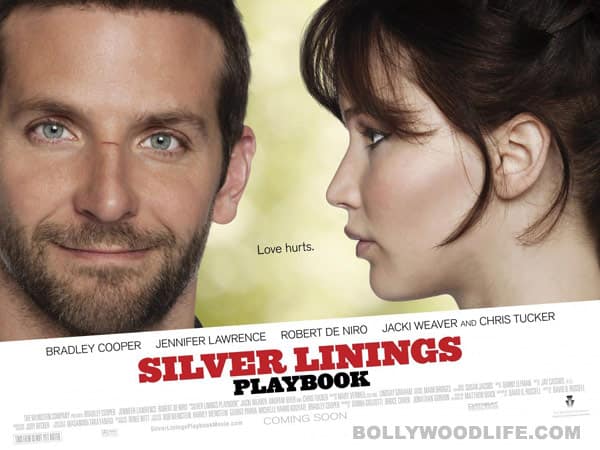 The Fighter director David O Russel is back with an engaging story of a neurotic romance
Writer-director David O Russel's Silver Linings Playbook is the story of the recovery of a seemingly damaged person in an environment that's not exactly sane and amidst people who may have their own underlying quirks.
The movie starts with Pat (Bradley Cooper), a former teacher exiting a mental health clinic against doctors' orders, thanks to his mum's (Jackie Weaver) belief that being with family could help him cope better. You learn that Pat was being treated for bipolar disorder after beating his wife's lover almost to death. Back in the suburbs of Philadelphia, Pat runs into his paranoid neighbours, ex-colleagues and over-protective friends and tries to prove that he is in much better mental condition now.
Filled with positive energy and armed with the powerful word 'Excelsior!', Pat starts reading extensively and jogging every day. He visits his therapist (Anupam Kher) regularly and claims that his condition is improving. But his outward appearance is just a farce. In fact, with each passing day he's growing more delusional about reuniting with his wife. He believes that reading up on her college syllabus and being fit will help him win his wife back. He bumps into a mentally disturbed Tiffany (Jennifer Lawrence), who is finding it difficult to deal with her husband's sudden death. The two bond over their mental issues and the medications they are on. And despite her own social disorders, Tiffany offers to help Pat win Nikki back through a dance competition.
And by now it's become quite obvious where this love story is heading. But the quirky humour and the chemistry between the eccentric Pat and Tiffany keep you hooked through to the end.
And there is Pat's father (Robert De Niro) – a bookmaker and a superstitious sports fanatic – who tries to bond with his son through their common love for the Philadelphia Eagles. Pat Senior is out of work and wants to make quick money through betting; he feels that his son's presence during a match is lucky for him.
Caught between his promise to Tiffany about participating in a dance contest and his father's attempt to earn big bucks with him as his good luck charm, Pat tries to find a balance.
His letter to Tiffany at the end of the movie sums it up: "The only way to beat my crazy was by doing something even crazier. Thank you. I love you. I knew it from the moment I saw you. I'm sorry it took me so long to catch up," he writes.
Silver Linings Playbook is neither cinematically brilliant, nor is it a poignant subject. But David O Russel turns what could have easily been a painful story about two damaged people into a tale of positivity, making you see that silver lining. And he does all this by making light of situations, though without mocking his characters.
Robert De Niro is fantastic, as always. Anupam Kher has very little to do. Bradley Cooper is definitely a revelation in this movie. He pushes himself into territories he has never explored. He carries madness with great poise. But the one person who makes the biggest impression is Jennifer Lawrence. She floors you with the ease with which she portrays a vulnerable yet tough character. She breezes through the scene towards the end where she yells at De Niro for his twisted superstitions and bullies Cooper into taking up a challenge.
Silver Linings Playbook is not a masterpiece, but it's perfectly crazy and hilariously fulfilling. It makes us realise that we are all a little messed up!
Rating:
out of 5
Reviewed by Suparna Thombare
* Poor
** Average
*** Good
**** Very good
***** Excellent