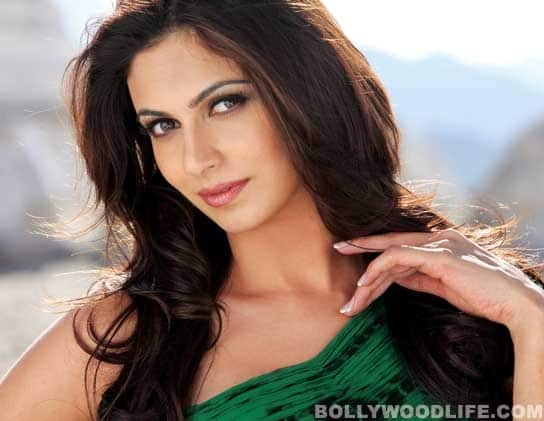 From selling movie tickets to starring in one, life has come a full circle for the winner of the Miss India 2008 title. This pretty young lady believes in giving her all to whatever she does…
Film offers were coming her way, but she decided not to compromise and wait for a really good role. Simran Kaur Mundi speaks of her debut film, the films that she loves and her 'friendship' with co-star Sunny Gill.
How did you land this role?
I am from a middle-class background and would dream about being Miss India and watching myself on the big screen, but I never really thought I would make the cut. Thanks to the fact that I believe in giving my best shot in whatever challenge that is presented to me, I won the Miss India crown in 2008 – getting into films was a natural progression. Till this film happened, I was preparing for life like any other average middle-class person. I have completed my BSc in Biotech, but I wanted to get into a MNC so I thought I would do my MBA, but thanks to my science background I had to get some work experience before I could qualify. So I took up a job with a popular multiplex as a guest relations' executive and my job was to sell movie tickets to celebs. That's where the director of Jo Hum Chahein, Pawan Gill, first spotted me. I was called for an audition and after three auditions I was taken on board. I fell in love with the freshness of the script and connected with my character, Neha Kapoor.
There are rumours that you are dating your co-star, Sunny Gill…
No. Sorry to disappoint you, we are just good friends. When we first met, it was really awkward, but after doing the acting workshops together, we developed the chemistry, all for the betterment of the film. Sunny is a fun guy to work with, but he is a flirt of the highest order. He is a 'lukkha lafanga lafandar' (Loosely translated, it means: a flirt who has a lot of time and nothing much to do) (giggles). Jokes apart, I think I learned a lot from him.
Tell us a little about Neha Kapoor…
I connect with her character to a large extent. She is a strong individual who is ambitious and wants to make a career as an actor. She doesn't suffer fools easily and is unwilling to compromise. Neha is everything that Rohan Bhatia (Sunny Gill's character) is not. He is such a flirt that he turns Neha off with his desperation but, as they say, opposites attract and that's how they fall in love. Jo Hum Chahein is more a 'coming of age' story about the youth of today. The film will connect with the current generation and the songs are already catching on in the pub circuit.
Director Pawan Gill is making his directorial debut with this film. What was the experience like, of working with him?
It might be Pawan's debut film as a director, but he has learned the ropes from Aditya Chopra as he has been a part of many Yash Raj films. Jo Hum Chaahein has the soul of Yash Raj Films. All those who have seen the film have said that it is clear that the director comes from the Yash Raj school of romance. Pawan always knew what he wanted from the actors in every scene and would get the job done by hook or crook. There is a part in the film where my character goes through an emotional catharsis and that is something that I haven't experienced firsthand so far; Pawan helped me get the act right.
What kind of films do you like?
I am a hopeless romantic and a sucker for mush. I have grown up watching films like Hum Aapke Hain Koun…!, Dilwale Dulhania Le Jayenge, Kuch Kuch Hota Hai, etc. I also loved the pain shown in Devdas. I would actually like to work with filmmakers like Imtiaz Ali, Karan Johar and Rajkumar Hirani.
Will you be doing only romantic films?
Well, not exactly. I have been an athlete for the longest time (a national level basketball player and swimmer) and I have maintained my figure without going to a gym. I would really like to do some action films, like Kill Bill. The one thing I am sure about is that I am not going to compromise and do things for cheap publicity. Skin show and intimate scenes are a strict no!
What if one of your dream filmmakers asks you to do so for a film?
Then it would be a different thing altogether. Not that I have never worn a bikini (remember Miss India?), but I don't think I will not be comfortable watching myself in a bikini on the big screen. Of course, if the filmmaker is someone like a Karan Johar, it would be shot with certain aesthetics…
Your film releases a week after Yash Raj Films' Ladies Vs Ricky Bahl. Does that make you nervous?
Well, yes, there is competition, but I think people who like to watch films made by YRF will also like to watch our film. It is not only a fresh story, but it has everything that a good film should have. It looks good, the songs are catchy, it's a fresh take on the aspirations of today's generation and basically it is a 'hatke' yet 'paisa-vasool' entertainer. Having said that, at the end of the day, a Yash Raj film is a Yash Raj film and we do not have the kind of budget they have. But we do hope that our film does well.