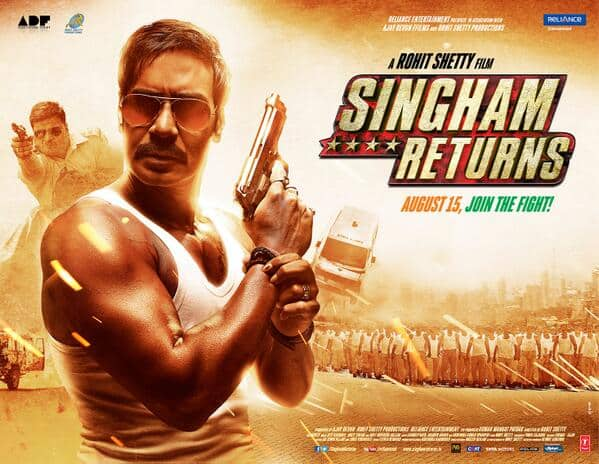 skip advertisement
The Singham actor was seen posting not one, but five posters of his upcoming film Singham Returns on Twitter
The actor posted five posters of his upcoming film with a tweet that read "U askd fr @SinghamReturns first look.. tonight I will give u ek nahee paanch first looks..here u go #SinghamReturns pic.twitter.com/mRXHnLZ0bH."
In 2011, Ajay Devgn took the nation by a storm with his deadly stints in the action thriller Singham, directed by Rohit Shetty. Kajol's better half is set to conquer B-town yet again with his upcoming film Singham Returns opposite Kareena Kapoor.
In the first poster, Ajay is seen in a rather raw and rugged avatar where he holds a pistol, along with wearing fancy shades and a white ganji. The oiled bulging biceps surely add a certain sex appeal and machoness to the Singham star's look. The next poster showcases the actor alongside Kareena Kapoor where the two stars are seen sporting green and orange shades and carry off the style with an appealing swag. The other posters present Ajay in a similar avatar as the fist one, except for a poster depicting a roaring lion, which supposedly is the logo for Singham Returns. The visual is creative and the team can be credited for their innovative gig.
The words "Join the fight" are visible on all the posters. Now what exactly is the whole deal about? Brace yourselves BollywoodLifers, as your questions will be answered on Independence day!