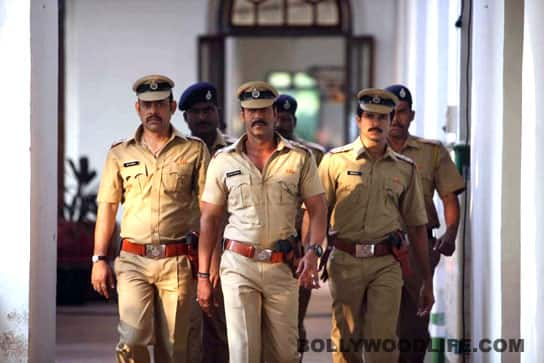 It's got the right dose of every emotion essential for entertainment, but it's chock-full of clichés and fast becoming a diet that palls
Rohit Shetty's Singham is about an honest, diligent and righteous cop, Bajirao Singham, a Maratha, played by the robust looking Ajay Devgn (sorry Salman, right now the Devgn dude boasts of a better body!). He has a happy existence in a small town called Shivgad, located between the borders of Karnataka and Goa. Singham resolves the local people's fights and differences over a cup of chai and conversation. He is the fave man of every Shivgad resident.
But what is a man without a woman, our filmmakers ask, as always. So along comes Kavya (played by the young and pretty south actor Kajal Aggarwal), the lady who literally stalks Singham and corners him, making him fall in love with her. And the work-happy cop is delighted to be chased by a beautiful girl. To create ripples in Singham's blissful life, an egoistic and self-obsessed goon from Goa – Jaikanth Shikre (played by a well-known bad man in the south, Prakash Raj, who was also seen in Wanted) – arrives to stir up the scene a bit.
What happens next is not out of the ordinary. Transfers, confrontations, humiliations, frustrations, helplessness, politics, redemption – writer Yunus Sajawal uses all tricks in his well-thumbed book to take his screenplay forward. It's a pacy-racy one, but all too predictable and over-the-top. Dialogue writers Farhad and Sajid, who have become a favourite with Rohit Shetty and Ajay Devgn, manage to come up with some punchy and funny dialogues, too. But none of this is enough to sustain interest in a routine cop-and-goon story.
Comparisons to Salman Khan's Dabangg are unavoidable; but Ajay's Singham is a far more serious man and more justified in his manic rampage of punching goons and politicos. Both are the ultimate saviours for humankind, with each having a unique way of going about it. Dabangg and Singham glorify their cop, almost making them appear like superheroes.
Since it is a Rohit Shetty film, you get to watch cars being blown up, sidekicks being beaten up and a wonderfully desi version of Matrix-style action. It is almost hilarious to watch Ajay pull out the driver from a flying car or get off a running car and shoot people. But, well, it's entertainment: you see what's not believable. It is an action flick, so the camera rolls slowly when the men are being punched or cars are being blown up. But we'd prefer that the camera made some love to the so-not-in-love couple Ajay and Kajal. The two sing love songs and have their intimate moments, but it's a lacklustre romance. Salman-Sonakshi had better sizzle in Dabangg.
When it comes to acting, award-winning Prakash Raj does a fab job. This new bad man in Bollywood is one to watch out for. He effortlessly transforms from a powerful gangster-turned-politician to a weak and comical man struggling to save himself from Singham. Ajay is competent. He looks good, acts well and fights like a hero. But maybe he should have avoided mouthing dialogues in Marathi or asked wifey for more assistance than he got from her for his diction. South import Kajal tries hard to make her presence felt, but all she does is add glamour and give the audience a chance to step out of the auditorium for a break. The rest of the cast includes some well-known actors – Ashok Saraf, Sachin Khedekar, Sonali Kulkarni, Govind Namdeo and Anant Jog. But this is an Ajay Devgn film all the way, so there's little for anyone else to do.
Singham has everything right, from the action to the actors to the drama to the screenplay to the dialogue to the background score, but it's all too very clichéd. So if you enjoy the Rajinikanth or Salman 'Dabangg' Khan kind of action films and have the hots for Ajay Devgn, you should not miss this one over the weekend.