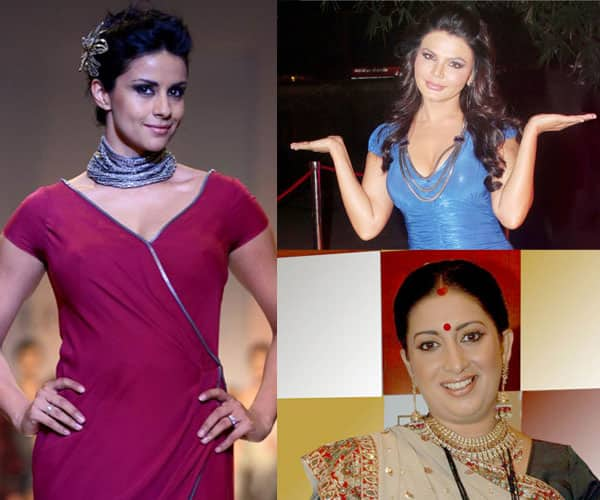 A lot of B-townies were contesting the Lok Sabha Elections 2014. Here's a look at those who lost this year
Gul Panag was pitted against her ex-flame's mother Kirron Kher during Lok Sabha Elections 2014. These weren't the only B-townies battling for a seat at the Lok Sabha. Smriti Irani, Rakhi Sawant, Mahesh Majrekar, Nagma among others were contesting the Lok Sabha Elections 2014. Let's take a look at those who did not win this year.
AAP candidate Gul Panag lost the elections to Kirron Kher, a BJP candidate from Chandigarh constituency. At one point of time, Gul was dating Kirron's son and if things had fallen in place, Kirron would have been her mother-in-law. Anyways, unlike the saas-bahu drama on TV, where the bahu is generally triumphant, in real life, the saas (Kirron Kher) won by almost 15,000 votes against Gul.
TV actor Smriti Irani was up against Rahul Gandhi in Amethi. On the counting day, Irani was ahead of Gandhi. But later Rahul raced past and won the seat. However, BJP wasn't disappointed as Smriti garnered numerous votes despite contesting from Amethi, a place where Congress has a strong foothold.
Item girl turned politician Rakhi Sawant created a record of sorts by winning merely 15 votes from her individual party. But the actor expressed that though she is unhappy that she lost, she's happy that BJP won…
Moving on from dancing to singing… Bappi Lahiri, who contested the elections from Srerampur was leading at the beginning of the counting but in the end, he lost the elections. Other B-town celebs who lost Elections 2014 include Mahesh Manjrekar, Ravi Kishan, Prakash Jha, Raj Babbar and Nagma.
Well, to some we'd like to say, better luck next time. But to others, we'd also like to add, it's better to stay true to what you are best at – acting. We can't have all our actors turning politicians, no? And we have Narendra Modi for the Indian politics to turn over a new leaf now, don't we?