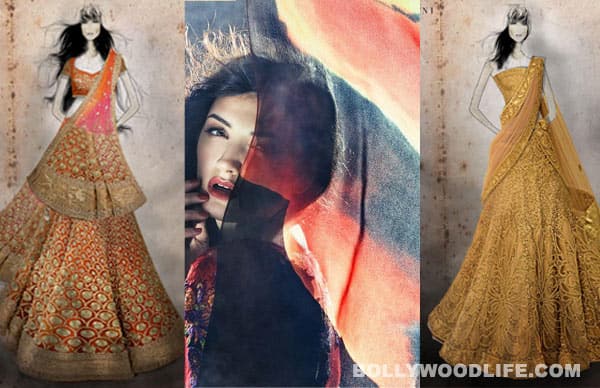 Not so long ago, YRF tied up with a famous saree brand for a new and exclusive fashion label and now the first look has been unveiled – don't miss this!
Whether it was Priyanka Chopra's liquid gold saree in Desi girl from Dostana or Kajol's brilliantly coloured drapes in Suraj hua madham in Kabhi Khushi Kabhi Gham, each time a Bollywood diva wears a saree in a film it starts a new trend. Many of these films were produced by Yash Raj Films, which has come up with the concept called Diva'ni, India's first Bollywood inspired brand of traditional wear. YRF in association with Karol Bagh Saree House (KBSH) has just unveiled the first look of the first collection and we are totally mesmerised by the majestic designs.
One such creation is an intricately designed gold and beige lehenga saree. The sequin-studded handwork looks so perfectly done that we can't wait to see a B-town A-lister – or maybe even you – flaunting it for that special occasion. In yet another design, different colours have been flawlessly blended with each other. The pink and orange net pallu with gold motifs and zari work looks exquisite. The heavy saree is teamed with a much simpler blouse, which completes the classy look. We love it! Each piece has that extra filmi tadka that makes it far more interesting and elevates it to a new level of beauty and appeal.
If the creations look so lovely in these sketches, we can't wait to see them in stores.