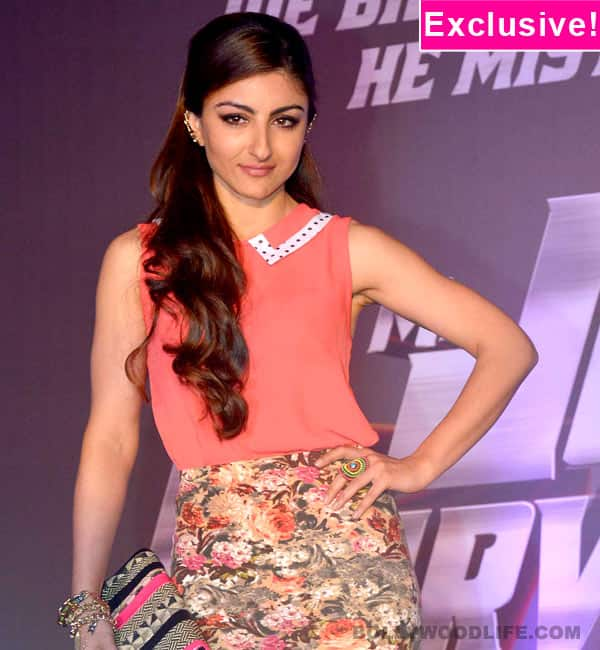 She plays a dabangg cop in Mr Joe B Carvalho, a comedy of errors. Saif Ali Khan's little sister talks of her journey while making the film, wearing a bikini and beau Kunal Khemmu…
Tell us about your character in Mr Joe B Carvalho…
I play senior inspector Shantipriya Phadnis. She is a cop in the Bengaluru police force, but most of the time she is under cover – a cabaret dance, an apsara or a bazaaru auraat. She is tailing an international assassin called Carlos, played by Javed Jafferi. But she somehow mistakes Mr Joe B Carvalho, played by Arshad Warsi, for Carlos and this leads to a whole comedy of errors.
So you play a dabangg cop?
Yes. Actually, Shantipriya's introduction is very dabbang. She emerges from a jeep, throws her aviators in the air and proceeds to beat the pulp out of 20 gundas. Personally, I can only envision Salman bhai doing such a sequence, but Samir Tiwari, the director kept on reminding me that it's a comedy and that's why such a sequence would look good on me.
How comfortable were you doing the bikini shots?
The bikini shoot was far easier than the apsara scene or the cabaret dance sequence. I have always loved water sports and have always been comfortable in a swimsuit. So that way I was comfortable, but doing it in front of a whole set of people was a new experience. Also, you know that this is going to be on the poster of the film, as it is a selling point. So that, at times, gives you a scare, but more importantly, I was told about the scene just on the morning of the shoot. The director kept on saying that it won't be difficult for me, as I didn't have to work extra hard. They kept saying that I have a perfect body as I only eat boiled fish. So I didn't get any time to have a sleepless night about it.
You said that you have done a 'Soha style' cabaret dance. What is that about?
We didn't have any time to rehearse or practise for the cabaret dance. One evening, when the director said that tomorrow we would be shooting the cabaret sequence, I was like, when would we rehearse and practise. The director was like you are an undercover cop, so you don't need to dance perfectly. And that's why we just practised on the day of the shoot and that's how we shot the number. It is not conventional at all.
Are you open to crass comedies, or are you just up for intelligent ones?
I am more fond of something that genuinely makes you laugh, rather than which makes you cringe. I would absolutely never want to be part of any sex comedies, as I feel they are not the best depiction of women.
You have done two comedies back to back—War Chhod Na Yaar and Mr Joe B Carvalho. How different was working in these two comedies?
Both were very different for my character. In War Chhod Na Yaar, I play the very serious character of a reporter. The comedy lies in the fun that's all around her. She sees the comedy all around. But here, I am very much a part of the comedy. In War Chhod..I was losing out on the fun stuff, whereas in this I am more involved in the fun part.
How comfortable are you working with new directors?
You get a sense of how well a new director knows his subject even before the film starts. You have loads of conversation with the director before the start of the shoot and that gives you a sense of what they want out of the script. New directors are most of the time open to suggestions from senior artistes. That is good. But obviously, when you work in a Sudhir Mishra or a Rituparno Ghosh film, you work with your eyes closed. You can allow them to mould you in any which way.
Tell us about the cameo Kunal Khemmu is doing in the film…
Kunal was on the sets and we were shooting a very ridiculous scene. Everyone in the cast was involved in that scene and Arshad, having worked with Kunal before, asked him to join in the mad fun. And Kunal was very sporty and he joined immediately and we all had a ball of a time shooting that sequence.
What does the future look like for you?
After Joe B I have a social thriller called Chaarfutiya Chhokare. There is no hero in that film, but there is me and three 12-year-old boys. It's more into a serious space. It's about a girl who comes back from the US and wants to set up a school in a village and what problems come the way.
Watch the trailer tickle your funny bone at Mr Joe B Carvalho trailer