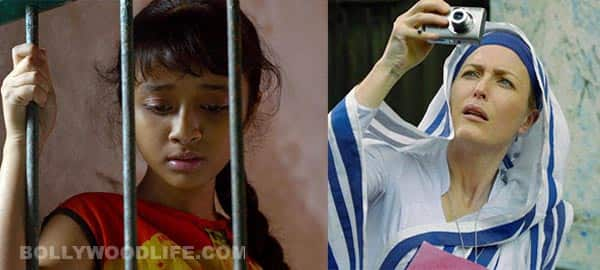 The film tells the story of a young girl's struggle for survival after she is sold
The London Indian Film Festival (July 10-17) is celebrating its 5th anniversary by putting on the European premiere of hard-hitting drama Sold as its opening film. Based on the bestselling novel Sold by Patricia McCormick, the film is a powerful tale based on real life events, and tells of a young Nepali girl's struggle for survival after being sold into prostitution in Kolkata, and an American photographer (Gillian Anderson), who, against the odds, attempts to rescue her and other young women. The X Files and The Fall star Gillian Anderson will participate in a Q&A in London at the film's opening night amongst other talent.
Director Jeffrey D. Brown, Executive Producer Emma Thompson and Producer Jane Charles have worked tirelessly to bring this film to the screen researching every aspect of the story in depth with charities which deal directly with child trafficking in India Emma Thompson, president of the The Helen Bamber Foundation, works with survivors in London, which is why she is informed on this issue and cares deeply about it.
Supporting cast includes David Arquette (Conception) and Indian actors Seema Biswas (Bandit Queen), Parambrata Chatterjee (Apur Panchali), Tillotama Shome (Monsoon Wedding) and Susmita Mukherjee (Dostana). Debutante Niyar Saikia plays the central role of Lakshmi, the young girl from Nepal.
Executive Producer Emma Thompson said, "It is wonderful to have our film premiered at London Indian Film Festival, to raise awareness of child-trafficking, which is an issue close to my heart and is shockingly on the increase world-wide. We hope that this film will make people think and highlight the support for key charities such as The Helen Bamber Foundation and others working in this difficult area in India, Nepal and elsewhere."
Gillian Anderson said, "Working on this sensitively told film and with young women who have themselves experienced the unbelievable trauma of abduction and trafficking has opened my eyes to the horrors these young people face on a daily basis as well as the often life threatening danger those working at the charities put themselves in to free these innocent victims from modern day slavery."
Sold follows a young girl, Lakshmi, who leaves her home in a quiet village in the Nepali Himalayas in the expectation of a job in big city India. However on her arrival in Kolkata she soon realises that she has instead been trafficked into a prison brothel and the world of prostitution, where she must struggle daily to survive against impossible odds. A US photographer, who hears her cries for help, spearheads a mission to rescue her. Through one extraordinary girl's journey, Sold illustrates the brutality of child trafficking, a crime experienced by millions of girls every year around the globe. Sold is a clarion call to action as well as a testament to the resilience of the human spirit.