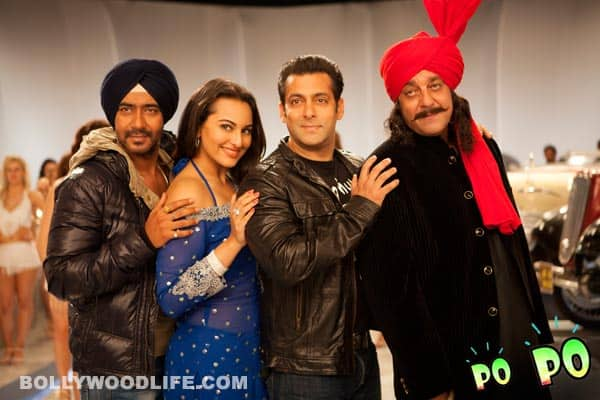 Watch the item number from director Ashwani Dhir's Diwali attraction
So here it is – the much awaited item number from Ajay Devgn's new film Son Of Sardaar! The Po po song features Salman Khan, Ajay, Sanjay Dutt and Sonakshi Sinha. Composed by Himesh Reshammiya, the song has lyrics by Shabbir Ahmed. Though not in the league of Salman's Dhinkachika or Character dheela hai, it is still one of the catchier numbers of SOS.
Po po is perhaps the first song that features dancing cars – watch the song and you'll figure out what we mean. The story here is how awesome Sonakshi is and how the guys, all way older than her, try to woo her. Deadly Dutt sticks out like a sore thumb in his silly wig and sillier moustache. It is tough to make Dutt look bad and we can safely say that his look in SOS comes a close second to his disastrous get-up in Chatur Singh Two Star. Watch the video for Salman, Sonakshi and the never before seen dancing cars!
Do let us know if you liked this item number…