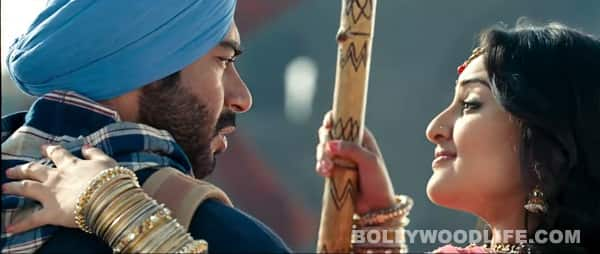 The Bol Bachchan actor is back with another masala entertainer, and this time his partner in crime is Sanjay Dutt
After the Ajay Devgn-Konkona sen Sharma starrer, Atithi Tum Kab Jaaoge, director Ashwani Dhir is ready with his big budget entertainer, Son Of Sardaar. Along with the Ajay, Dhir has Sanjay Dutt, Sonakshi Sinha and Juhi Chawla adding to the madness. Watch the trailer and you will realise that the makers have a blockbuster hit in the making. Though there were no dozen flying cars, a la Rohit Shetty films, but SOS does have a lot of action and crowd pleasing gags.
Sonakshi Sinha seems to be at her uninhibited best in this revenge flick. She is seen dancing and generally acting rowdy like in her previous outing with Akshay Kumar, Rowdy Rathore. Only that she has got it better this time around. We are not sure if it was her co-stars who did the trick or her director, we liked seeing her having a ball. Juhi Chawla is also a part of the cast and she too seems to be at her bubbly best. Deadly Dutt is seen locking horns with Devgn and he looks menacing in his long locks.
Son Of Sardaar looks like a riot, and if the Sikh community doesn't protest over the Singham dude's portrayal as one of them, this just might hit the mark… What do you think, dear Bollywoodlifer?
ALSO READ: Do we really need a 'Singham' sequel?