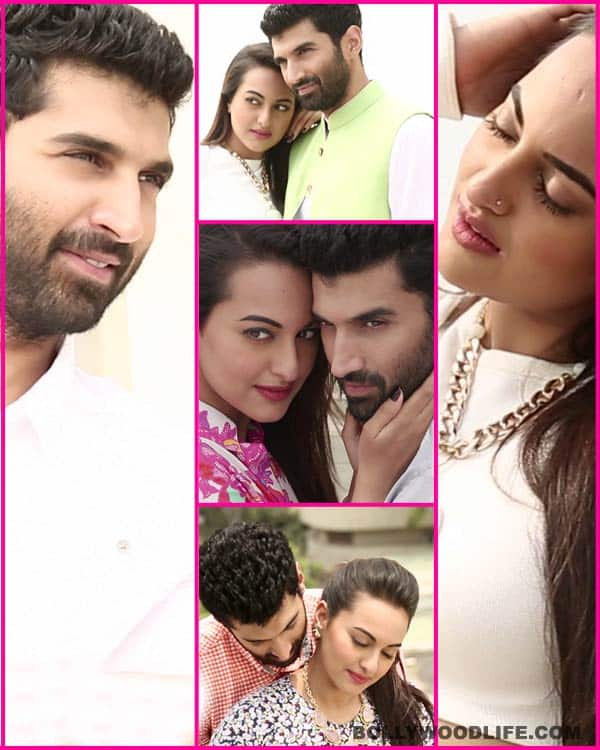 The duo has graced the cover of a popular glossy. Here's the video of the making of the cover
Aditya Roy Kapur and Sonakshi Sinha came together for the first time – not for a movie but for a magazine cover. This fresh pair is featuring on the coverpage of Stardust this month and we must say that despite no common history, movies or otherwise, their chemistry is quite sizzling. While we weren't impressed when we first looked at the cover, when we watched the making of the cover, we totally loved Aditya and Sonakshi.
In the making video, we get to see the Dabangg girl getting ready for the covershoot. With her girl-next-door looks, Sona looks alluring in a crop top and a skirt. Her hairdo is the same as always, but we aren't complaining. Adi and Sona seem to get along right from the word action! They look very comfortable in each other's company and their chemistry comes naturally while posing for the 'bugs. Whether they are looking in each other's eyes, or Sonakshi is resting her head on his shoulder, they make an awesome twosome!
Well, watch the making video and tell us what you think about Sonakshi and Aditya as a pair. We certainly would love to see them in a movie together. What about you?
[flv image="http://st1.bollywoodlife.com/wp-content/uploads/2014/05/aditya-roy-kapur-sonakshi-sinha-130514.jpg"]http://st1.bollywoodlife.com/wp-content/uploads/2014/05/making-of-stardust-cover-with-sonakshi-and-aditya-roy-kapur.flv[/flv]