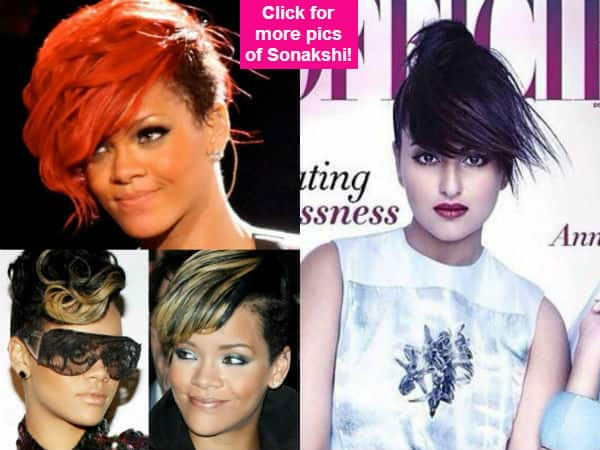 skip advertisement
We spotted the Tevar actor on the cover of a popular fashion magazine sporting a hairstyle quite similar to the western popstar!
Sonakshi Sinha features on the cover of a popular fashion magazine wearing a petal blue Dior dress. But more than the ethereal outfit what struck us was Sona's hairstyle for the cover.
Trying to flaunt a wacky look Sonakshi had her hair done up in a severe pony that was pulled in front giving us an illusion of a messy mo-hawk.The hairdo was a great contrast to the dullness of the backdrop. Interestingly, international R&B singer and popstar Rihanna too had sported a similar hairstyle in the past. The difference was that Rihanna had her hair cropped on the sides.
While Jr Shotgun avoided the radical cut, she did manage pulling off the wacky hair-do flawlessly. Don't you agree Bollywoodlifers?