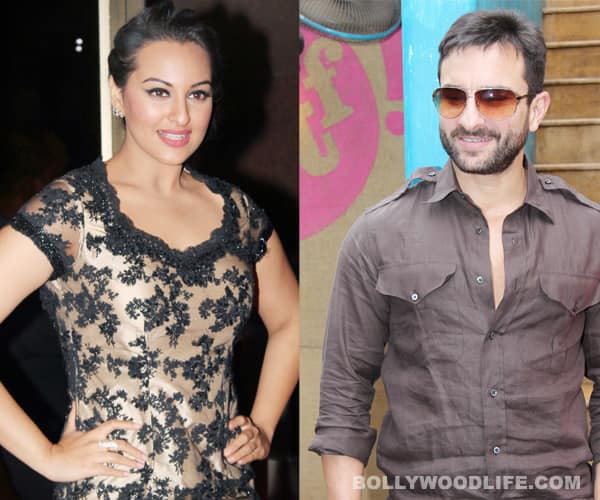 No, we are not talking about Judwaa 2, but there's fresh goss about another film in the pipeline
Do you remember a while ago we told you that Saif Ali Khan will have a new co-star – a certain young lady called Sonakshi Sinha – in Sajid Nadiadwala's Judwaa 2? But after we found out that Sajid Khan was kicked out from the sequel to the Salman Khan laugh-a-riot and director of the original film David Dhawan had taken over the reins of the project, we have no clue what's happening with it. Our feathered friend – who's pretty piqued 'coz her high-flying soirees have been curtailed due to Lord Indra's war (read: incessant rain) against Mumbaiites – let out some taaza khabar that's been developing in Saif's professional world.
"Tigmanshu Dhulia has approached the 25-year-old Joker babe to play the Cocktail dude's leading lady in Bullet Raja," says our birdie. And friends of friends of Sona insist that the voluptuous hottie is quite gung ho about her role. For those who don't know, Bullet Raja is said to be a film based on the mafia world in UP and Sona's role is of a Bengali babe. Isn't she already playing a machher jhol and mishti doi loving character in Vikramaditya Motwane's Lootera? So why the excitement! And does she have no other kaam but to do these gaon ki ladki roles? Or is there a little glitch where more urban projects are concerned for which the gal would need to slink into western clothes?
Anyway, after Salman Khan, Akshay Kumar, Ajay Devgn and the new Nawab of Pataudi, the only 40-plus superstars Sona hasn't worked with are Shahrukh Khan and Aamir Khan. But we'd suggest she'd better stick to the Ranbirs, Imrans and Shahids of filmdom if she wants to last longer in B-town. Don't you think so?