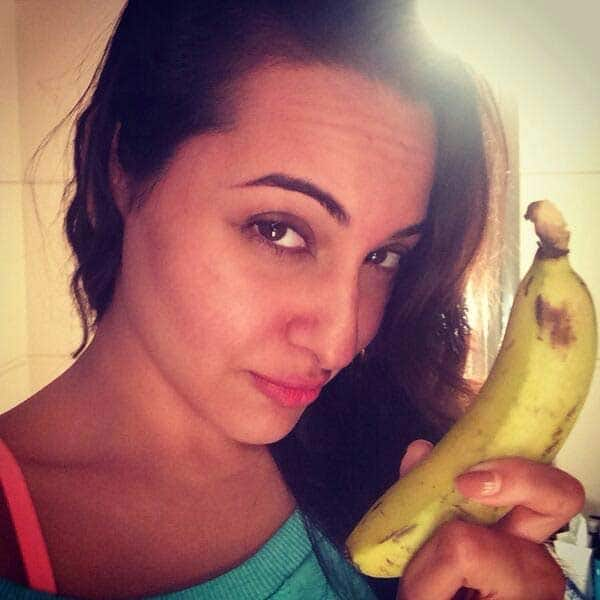 The Lootera starlet is surely unhappy about winning the Golden Kela Award once again. No wonder she took to Twitter and shot back at the awards show
Sonakshi Sinha was recently given the 'worst actor' Golden Kela Award for her film R…Rajkumar. And this hasn't gone down well with the pretty lady. In fact, the Dabangg gal was voted the worst actor last year too by the Kela awards for her performance in Son of Sardaar. While Sona didn't react the last time, this year the B-town beauty took a dig at the Kela awards on the popular social networking site Twitter. Ms Sinha posted a picture of hers holding a real kela (banana) and wrote, "Wht to do with a 'golden kela' when i got the real deal right here? 4 rs. only and edible too! Kela ppl-u want? Hehe." Well, that's indeed funny, hai na? While wethinks Sonakshi's sense of humour is super cool, what we totally loved was her picture. Shatrughan Sinha's beti looks absolutely stunning, no?
Besides Sona, Aamir Khan and Ajay Devgn were also announced as the worst actors of 2013 at the Golden Kela Awards. Well, if Khan and Devgn are planning to take a jibe at the Kela awards then wethinks they should take a cue from R…Rajkumar actor on how to do it – subtle yet bang on! Right Bollywoodlifers?