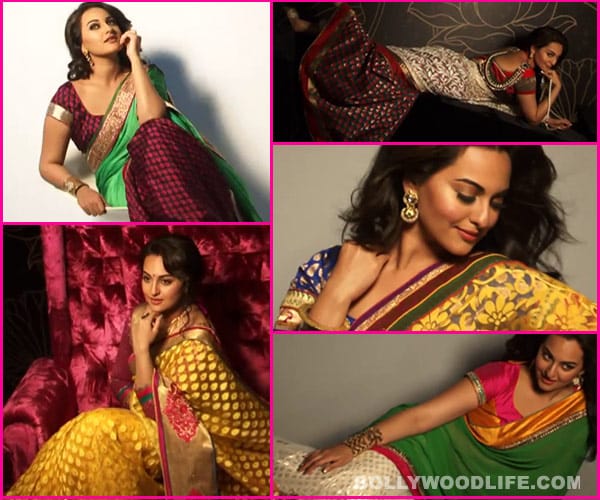 The Dabangg girl, has chosen the not-so-glamorous route in Bollywood, doesn't have a size fixation, nor is she the trend follower and is extremely proud of her innings in B-town
Sonakshi Sinha has an old world charm about her. The actress chose to play the saree-clad heroine in most of her films while the others were busy getting in-and-out of a bikini! She's happy being what she is and her 'dare to be different' attitude and traditional looks have bagged her creamy projects in her kitty. And despite all the hoo-haa around her weight this desi damsel is unruffled. The actor quips, 'I'm not the typical size zero heroine that you have, I'm very proud of the fact that I've curves!'. Ouch, was that an open attack at a certain Ms Kapoor Khan?
At a recent photo shoot Sonakshi talked about her personal style, sarees, et all. Sonakshi has often come under the scanner for not experimenting with her clothes/looks like her contemporaries Deepika Padukone and Anushka Sharma, Sona is happy with the nine yards statements she makes. And guess what Vidya Balan isn't her inspiration nor is it the enigmatic Rekha, mommy is the word as far as sarees go, 'It's the most graceful and elegant garment and one of the most widely worn attire. I'm wearing a saree from very first film. I've never worn a saree myself however, never tried it but I believe I can wear a saree. My mom has a great collection of sarees and I like how she sports it with a traditional red bindi'.
While we are happy to see Shotgun Jr go all gung-ho about her personal style, we think a little experimentation wouldn't do her any harm. What say?