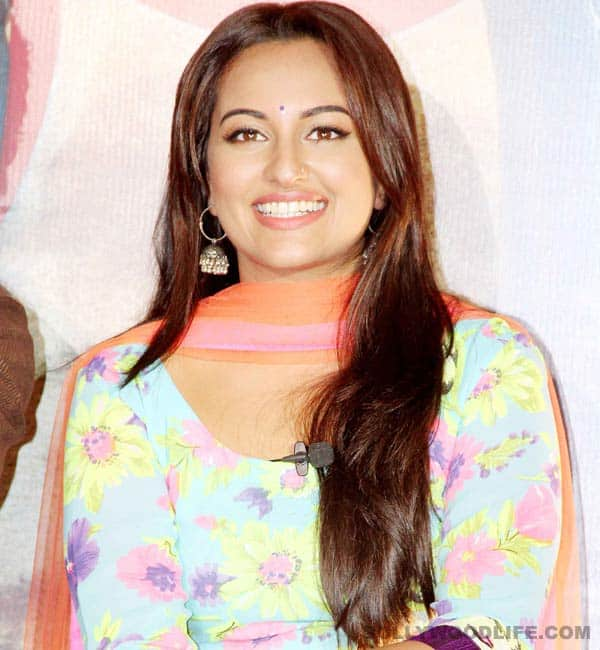 She will always say no to that style, she insists, and with her dumdaar body-shody we certainly can't picture her in anything but demure Indian or semi-Western clothing…
Remember Priyanka Chopra coming out of the water wearing a sizzling golden swimsuit in Dostana? Yes, the Exotic babe took everyone's breath away. And then she did it again – but worse…or better – in her latest video. But we aren't' going to rave about PC and how hot she looked. We have someone else in our sights: the Dabangg babe, Sonakshi Sinha. In her new film R…Rajkumar, Sona has redefined the coming-out-of-the-water scene. Instead of a bikini, Ms Sinha splashes her way out of the water wearing a saree. Now that doesn't even sound remotely exciting, hai na? But that's what her fans will have to settle for and wethinks it is pretty good deal. After all, a girl should flaunt it only when she has it, that too in right proportions, wethinks. While Sona has done us and everyone who looks at her a big favour by refusing to be in the company of any bikini she has ever met, but her explanation for that made our eyebrows rise almost higher than our heads. "No bikini…jitna hai, usi se kaam chalao...be happy with what you get!", said the Shotgun beti about her no-dare-to -bare stand.
But Sona, we have been kaam chalaoing with your desi look ever since you entered filmi duniya. And as far as being happy is concerned, you have no idea how relieved and happy we are about your decision to stay away from the itsy-bitsy route. Hey BollywoodLifers, remember Sona's fake bikini pictures that went viral a few years ago? Didn't we all heave a sigh of relief when we found out that those images were morphed? We say so not 'coz Sona's next-door-girl image would have been tarnished, but because we realised then and there that two-piece swimwear is certainly not meant for the Rowdy lady. While some still shiver when they think back to that episode, it's nerve wracking to think what would happen if the gal actually did wear a skimpy bikini, hai na? So we are thankful to Sona for being sensible enough to not get carried away with what-the-script-demands urges and for knowing exactly what the audience shouldn't see!