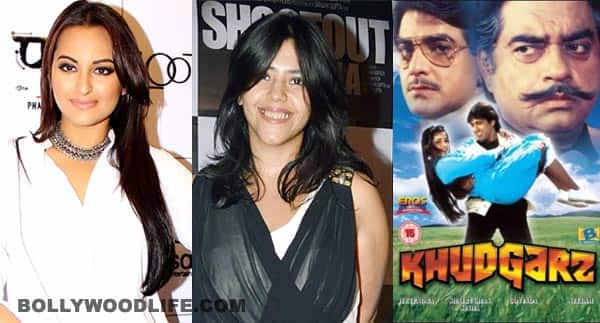 Khudgarz starred Shatrughan Sinha and Jeetendra; will its sequel or remake have the stars' daughters working in and on it?
Ekta Kapoor isn't the one to sit and cry. Though her last film, Once Upon Ay Time In Mumbai Dobaara (OUATIMD) failed to meet its expectations at the box office, the Kapoor girl is already planning her next. During the promotions of OUATIMD, Sonakshi Sinha was asked if she were to attempt a remake or a sequel to her father's films, which film would it be. To this, Sona replied with 'Khudgarz' and guess what? Ekta Kapoor said she would like to produce the remake or sequel of Khudgarz as the original film also casted her father, Jeetendra!
Khudgarz was based on Jeffrey Archer's novel Kane and Abel. What more, Jeffrey Archer also wrote its sequel, The Prodigal Daughter. With Ekta and Sona's fathers' a part of the 1987 film Khudgarz, wouldn't it be interesting to see these Bollywood ki betiyaan working on its sequel?