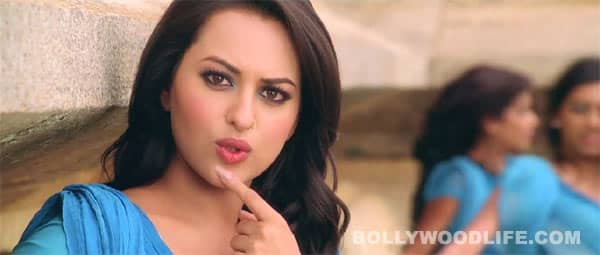 skip advertisement
Looks like the Joker actor has decided to take a cue from her co-actor of two movies, Akshay Kumar, and add a funny bone to her personality. But is there more?
We all know Sonakshi Sinha as the actor who loves to be clad in colourful ghagra cholis as she hops from one film to another. And everyone, including us, looked forward to a change – a teeny weeny one or even a scandalous new avatar – in the Sinha babe's look just so that she could break out of the rut. Well, the curvy actor has finally heard our pleas and decided to venture out of her comfort zone. And this is how she plans to be different. But mind you, it's not the clothes we are talking about….not yet.
But we like it 'coz it's clear that Sonakshi is trying to break out of the image of a gaon ki chhori by popping up, albeit intriguingly briefly, in phoren outfits that compulsorily include a shrug. So guess that the lass is slowly steering towards the western sensibilities. And before we know it, she might make an appearance in a mini skirt (a fleeting one, perhaps)! Right, Sona?