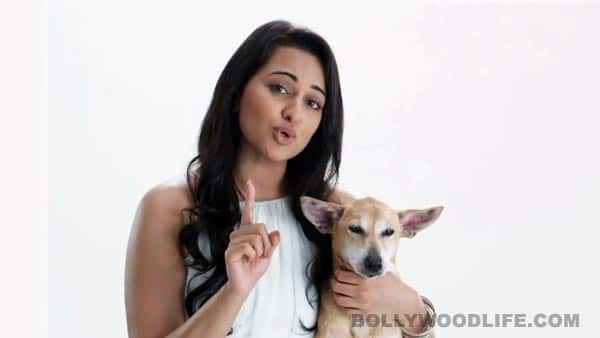 The Son Of Sardaar babe recently shot for a new PeTA ad to help dogs
Sonakshi Sinha sure has a heart of gold. The Dabangg babe has been an ardent supporter of PeTA India, so it's no surprise that when she learned about the plight of dogs, she agreed to shoot a one-minute video urging everyone to adopt animals and have them sterilised.
Sonakshi speaks from her own experience; she had adopted a beloved dog Nancy with whom she spent 14 years before the dog passed away. Shatrughan Sinha's daughter encouraged her fans to experience the joy that comes from saving a cat or a dog from the streets and offering them a shelter and a loving home.
Sonakshi said, "All around the world, homeless dogs and cats are injured in fights or hit by cars or abused by cruel people. Some will be taken in by an animal shelter but many of these animals will simply languish in cages because there aren't good homes for them. The single most important thing that we can do to save animals from all their sufferings or their overpopulation causes is to sterilise them."
Over the years, several celebrities including Maneka Gandhi, Hema Malini, John Abraham, Shilpa Shetty and Celina Jaitly have joined forces with PeTA by writing about their experiences or shooting ad campaigns and lent their star power to the noble cause. Keep it up, Sona!