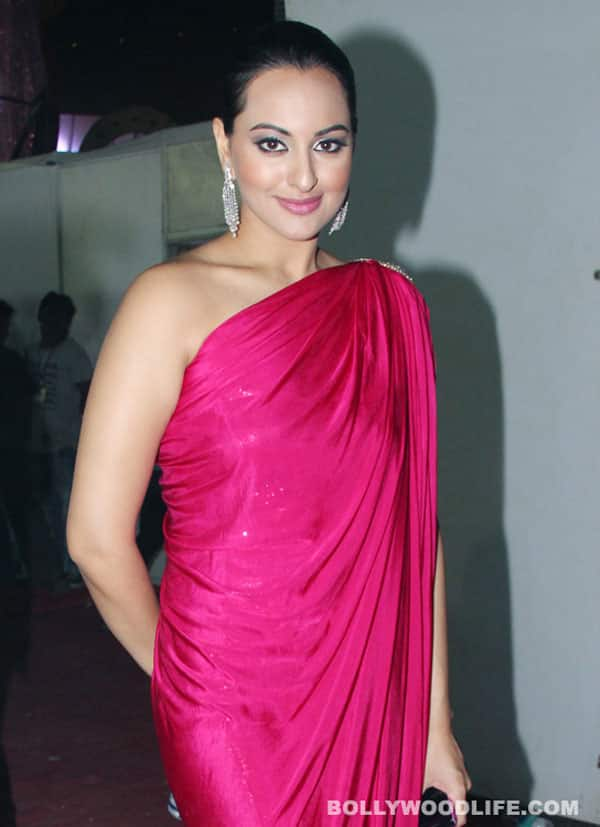 The lady is all set to gyrate seductively to an item number from Akshay Kumar's upcoming movie. But will Sonakshi's Chikni kamar make us forget Katrina Kaif's Chikni Chameli?
Remember how we went gaga over Chikni Chameli aka Katrina Kaif's moves in Agneepath? Guess it's time to get over 'Chameli' and move onto 'Kamar'. But whose kamar (waist) you might ask. To which we delightfully inform – Sonakshi Sinha's! Yup, Shotgun's pretty daughter is working hard to get her moves right for Rowdy Rathore's item song which is directed by Prabhu Deva, choreographed by Vishnu and features Sonakshi along with the Khiladi of B-town, Akshay Kumar.
That means oodles of expectations on the chubby shoulders of Sonakshi, right? From complicated moves to presence of stalwarts like Prabhu Deva and the ever existing comparison to the Chameli of Bollywood – is Sona overwhelmed by it all? Not really. The Dabangg babe is practicing hard to get the steps right. But as far as her figure is concerned, there aren't many restrictions. "Prabhu Deva and everyone else I'm working with like me the way I am," she says and adds that nothing from her menu has been banned yet.
What's more, the song is being shot at Hampi, on a supposedly beautiful location. "It's a very picturesque location and given the kind of film it is, the idea is to make the song also look larger than life," Sonakshi said in an interview.
With the kind of choreographers involved, the song has all the chance of being larger than life. But what about you, Sona – will you be better than Kat? Now that's a million dollar question, no? Tell us what you think, BollywoodLifers!