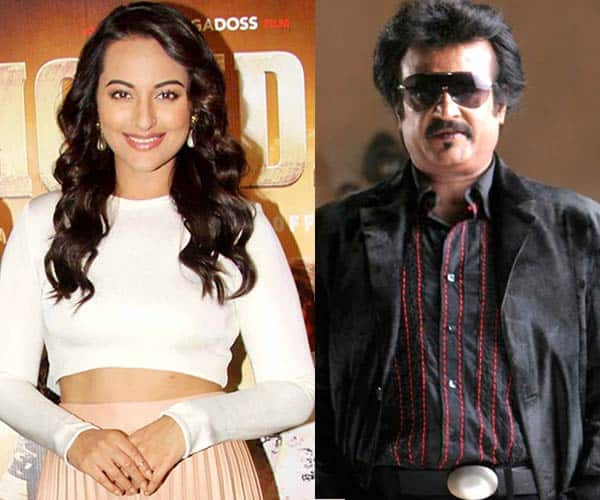 The R…Rajkumar actor has gone south. No we don't mean careerwise. She is setting camp in the Tamil film industry and she is going to play the role of a girl from the 40s in her debut. Read on to get the full scoop…
After starring with Deepika Padukone in Kochadaiiyaan, Rajinikanth is set to work with this gharelu beauty. The two will be seen romancing each other in Sonakshi Sinha's Tamil debut. Jr Sinha will be playing the role of a simple girl from the bygone era – the '40s. She was offered a choice between playing the role girl from the '40s or to play a contemporary lover. The R…Rajkumar actor picked the former and we are nothing but pleased with her choice. We expect her to look as gorgeous as she did in Lootera!
The film has two female leads and Anushka Shetty will be playing the role of Rajinikanth's contemporary lover. Rajinikanth would be playing a double role of grandfather and grandson. A source revealed, "Sonakshi will play the royal's (Rajini's character as grandfather) love interest and Anushka will be paired opposite the Rajini of today."
Will Sonakshi play royalty or will she play a Rajjo-like character from Dabangg, only time will tell. Rajinikanth seems to be on an onscreen romancing spree because he has been paired with almost all the B-Town beauties. Be it in an animation film or a film set in the bygone era of the '40s, we can bank on Rajni to share sizzling chemistry with his leading ladies. We hope the chemistry between Sona and the Kochadaiiyaan actor is more sizzling that the Rajini-Deepika and Rajini-Aishwarya Rai Bachchan pairing.