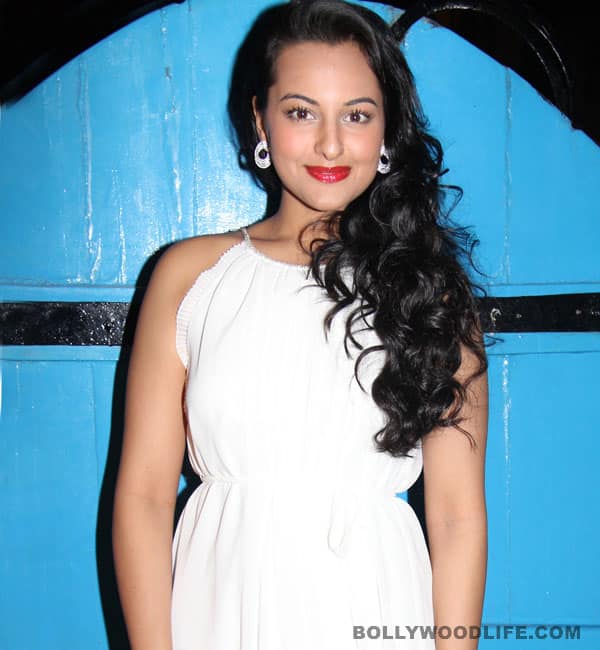 The Dabangg babe quells rumours of her locking lips for the first time in the sequel to Once Upon A Time in Mumbaai
Sonakshi Sinha, unlike other actors in her league, has always shied away from smooching on screen for the longest time since she debuted with Dabangg. The busty babe had even said in a recent interview last month that she preferred not to kiss or even wear a bikini! Well, we can understand the no bikini hang-up, since Sonakshi isn't really blessed with a bikini-bod, nor has she really worked towards it like her contemporaries Deepika Padukone or Anushka Sharma!
So we were a bit surprised when we read in a recent report that Sona was ready to lock lips with Imran Khan in Once Upon A Time in Mumbaai 2, and that she had gone back on her word! But the babe hasn't, and she quelled the rumour on Twitter, saying "Read some articles that say I'm going to be kissing on screen. Sorry yaar… Not true. But here – MWAH – for all the space that was wasted with those articles.(sic)"
We're happy that Sona is maintaining the status quo on kissing and wearing a bikini, yet we would just like to point out to her, that it's NOT a big deal sweetheart! At a time when A-list actors like Katrina Kaif and Kareena Kapoor are okay with kissing on screen, Sonakshi, who is a relatively new actor, should have no qualms. Even Sonakshi's contemporaries are cool with the whole kissing and doing bold roles business. And to be honest, nobody goes to theatres only to watch the actors make out! There are other things that people look out for, like a story or action or dialogues. Kissing is basically a no-brainer!
So just an advice to Sonakshi. Better be with the times, babe else the day is not far when the directors may actually look for another actor instead of casting you with your long list of dos and don'ts!