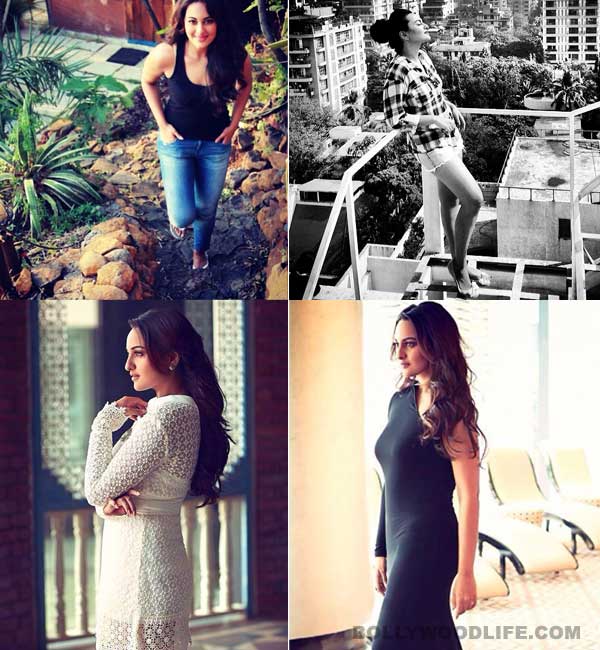 skip advertisement
Teaser-Sonakshi-Sinha-230514
The Dabangg girl has made a stunning transition and it's not just her perfect covershoot for a popular glossy that has us mighty impressed, but some pics from her personal collection too reveal the secret behind the slimmer and sexier Shotgun Jr
Sonakshi Sinha is ready to officially steal the "sexy kamariya" tag from the likes of Shilpa Shetty Kundra and Deepika Padukone. Well, at least the babe is on her way towards that. Sona upped her sexy quotient to be the covergirl for Filmfare's June issue, and she seems to be working towards proving the fashion police wrong.
And boy she has taken giant strides at silencing most of them.
Here's decoding the Rowdy gal's recent appearances…
This pretty Indian gal moved from her desi image and slipped into some super hot summer trends recently for a photoshoot. From looking hot in a white lacy dress to flaunting her sizzling curvaceous body in a short collared number, Sona's pics from this photoshoot are tantalising and starkly different from her onscreen appearances.
Unlike one of her recent photoshoots the babe looks elegant and sleek in this one. In the same white lace dress from Diesel, the Lootera actor is seen posing in a pensive mood in one shot and smiling coyly in another. Sona flaunts her newly attained slim figure in a body-hugging black one-shouldered black dress with a silver-tone metal collar from Joseph fashion. And yes she looks absolutely alluring!
The Holiday actor switches from gowns to Emporio Armani jumpsuit with ease . And oozes oomph while posing over her back. One can not miss Sonakshi's newly achieved figure or the confidence in the Burberry printed dress too
However, Ms Sinha hasn't restricted her sassy poses for the fashion photo-ops. Sans make-up, flaunting her new perfect figure and long well etched legs Sona has done this in a gym, on a sunny day in her balcony and yes of course at her casual best walking in a ganji and jeans in a garden. BollywoodLifers, how do you like the brand new sexy and sassy Sonakshi Sinha? Do post your comments in the box below…