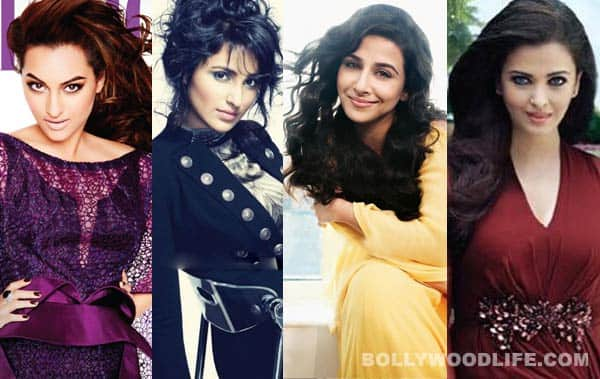 skip advertisement
B-town is a competitive world. Thanks to the standards set by Katrina Kaif, Deepika Padukone and Kareena Kapoor Khan, Bollywood beauties have to fight really hard and cut the flab to be the best in the business
Sonakshi Sinha's new photoshoot for L'Officiel's December issue truly shocked us. No, it isn't anything to do with her glam avatar or even the bold western outfits (what would papa Shatrughan Sinha say!), but the way she looked. We know that the Bullett Raja actor has been working hard to lose weight, but the images in the magazine are obviously treated. Sonakshi Sinha's broad frame has been transformed to a lean mean avatar, and her face has acquired a new sharpness, all thanks to the magic of software and the wiggle of the mouse, We're sure Shotgun's little daughter must be mighty pleased at having achieved a look that she hasn't gotten even close to in real life, but we wonder what Papa Sinha will say to her dare-bare photos and to anyone who comments on them. 'Khamosh!', perhaps?
But Sonakshi isn't the only one to have sought solace in this magical world of manipulation. Parineeti Chopra, who is also known for her not so slim frame, recently shot for Vogue's Gen Next issue – and we must say she did manage to come close to her contemporary Alia Bhatt in appearance. Parineeti managed to look fragile and, oh – we didn't miss her awesome new jawline! Finally she did get a taste of cousin sister Priyanka Chopra's look, even if was with a little help from technology.
Vidya Balan is known today for her voluptuous figure. The Dirty Picture heroine tried very hard to fit in to the Bollywood heroine mould; but after she failed miserably at that and won the prestigious Nariyal award for her efforts, better sense prevailed, as did her bond with designer Sabyasachi Mukherji. Vidya took the simple yet logical route and won a new accolade – as the 'female Khan' of the Indian entertainment world. But she was not averse to a little…err…fine tuning when it came to being photographed for magazines.
Aishwarya Rai Bachchan has been under the scanner for ages now for not losing her happy mummy look. The grapevine insisted that Ash was losing her status in B-town thanks to her blooming figure, but Mrs Bachchan Jr was happy playing the doting mother to Beti B Aaradhya and did not care about who was saying what. But some of the poundage was shed and the endorsements started pouring in. And while posing for the cameras, especially during photoshoots, Ash played with angles and… we leave the rest for you to fill in. Wink, wink!