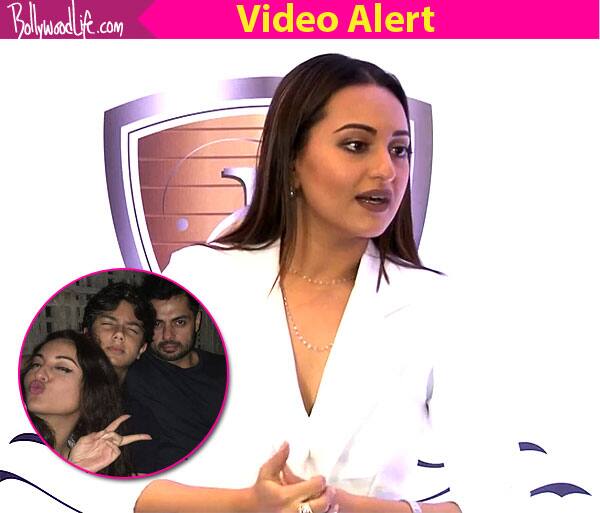 For long now there has been strong buzz of Sonakshi Sinha dating Bunty Sajdeh. In fact, the paparazzi have often snapped Bunty and Sona during their romantic outings. But Sona till now hasn't confirmed anything about her secret affair.  Last evening she graced the event where she spoke her heart out. One of the journos amid the Q & A quizzed her about her link up with Bunty. Sona turned red and avoided the question saying, " Agla sawaal (next question) ". Now we wonder what's with our B- town actors on keeping their relationship a hush hush affair.
Also read: Sonakshi Sinha's mother DISAPPROVES of her relationship with Bunty Sajdeh?
Reportedly Bunty and Sona are totally smitten by each other and are soon planning to get hitched.  Sonakshi and Bunty started dating first in 2012. However things didn't go well in their relationship coz there was a lot of interference by Sona's mother. Sona's parents had certain issues with Bunty especially coz of the huge age gap between them and also the fact that he is a divorcee. So due to all these differences, Sona took a break from Bunty and was seeing Arjun Kapoor. But later Ms Sinha reconciled with Bunty and they look happy in each other's company. Bunty and Sona have become the hot topic of town since a few months. However this latest angry reaction of Sona on linkup with Bunty will leave you confused. We hope all is well in their paradise.

For all those who don't know about Bunty, he is the founder of Cornerstone, an agency that manages some of India's top cricketers. India's leading players like Ishant Sharma, Umesh Yadav, Virat Kohli, Shikhar Dhawan, Rohit Sharma and Murli Vijay are managed by Cornerstone. Bunty is also the partner in CSE Consulting in which Virat Kohli also holds some stakes. The ace batsman is a part-owner of Wrogn.
Bunty Sachdev gives a parcel to Sonakshi Sinha

Sonakshi Sinha looked hot in a black dress while Bunty was dressed casually. The two headed out separately after dinner.

Black beauty Sonakshi looks absolutely beguiling as she got out of a restaurant in Bandra last night

We caught Sonakshi and Bunty outside a popular restaurant in Mumbai. After a hush hush dinner date Bunty gave Sonakshi a special something and we can't wait to know what it is!

Sonakshi Sinha seen outside a well-known restaurant in Bandra

Sonakshi received a special gift from boyfriend Bunty Sachdev. We are waiting to know what's inside it!

Sonakshi Sinha looks gorgeous as she is seen heading out of a popular restaurant in Bandra, Mumbai

Look at Sonakshi Sinha's jaw-dropping transformation! She is the perfect example of 'fat to fit'. Sonakshi was seen heading out of a well-known restaurant in Bandra, Mumbai

Sonakshi Sinha spotted outside a popular Bandra restaurant

Sonakshi Sinha looked stunning in an all black avatar as she was seen heading out of a restaurant in Bandra.