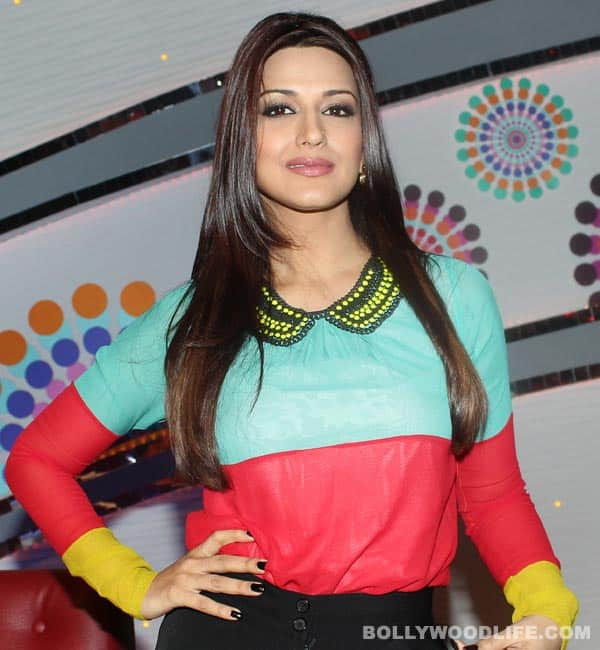 The actor says that she's not a judge any more, but a mentor. What made her take the plunge? We find out…
The sweet-faced babe disappeared from the big screen after delivering hits like Hum Saath Saath Hain, Duplicate and Sarfarosh in the 90s. She firmly placed her feet in a domain called television, despite the scary warnings and strong discouragement. And although she will be seen doing a role in Ekta Kapoor's Once Upon a Time in Mumbaai 2- and make her presence felt on the big screen after a helluva long time, she proudly claims that the small screen didn't exactly give her a chance to miss the bada parda. Ms Bendre is opinionated; she takes pride in charting her own course and more importantly, she loves to take a stand on certain issues. And she's doing that yet again with her new reality show Hindustan Ke Hunarbaaz, which will be aired on Life OK very soon…
What's Hindustan Ke Hunarbaaz all about? What has your journey on TV been like?
I started with Kya Masti Kya Dhoom, which was a kid's talent show, and Hindustan Ke Hunarbaaz also revolves around kids. The only difference is that there's no competition. In HKH every child who comes on the show takes something back with her or him. And yes, I think this show is going to be big 'coz of the concept. We are not claiming that we have the best talent in the country. All we are saying is that the kids have the potential to be anything they want to be. There are times I have come across parents who are very pushy and that has tormented me. Probably I wouldn't have given this much of a thought if I wasn't a mother myself. So when Life OK came up with this show, I gave my nod to it 'coz I believed in it. I think children need a platform for self-expression; what they don't need is when they are made to feel inferior 'coz of low marks and average performances. They don't need people telling them that, because they are still evolving. Honestly, it was a challenge to get this show on air, as when there's no competition, the commercial value goes for an absolute toss.
What's wrong with competition?
See, I personally thought it's my duty to do a show like this. I am not claiming that I am here to change society, but I feel this is a small step towards changing the way people think, as I feel that every child has something special in her or him. If only 5 percent have a competitive streak, are we trying to say that the rest of them are duds? That's not possible, right? I remember I used to score great marks in languages, but barely managed to pass in Maths, Physics and Chemistry. But did that make me a loser? But you know what – I was made to feel like a loser. So we aren't saying competition is wrong. But does that mean that the one who gets bogged down by it doesn't have the right to find a place under the sun?
Doesn't it get monotonous judging reality shows?
I told you, we aren't judging, we are mentoring. We are the cool gurus who encourage kids on the show.
Why do you like being on the small screen so much?
When I entered TV, I had just finished Hum Saath Saath Hain. People thought my career was over. It didn't bother me then and it doesn't bother me now. I feel I have always charted my own path. My path may be a lot simpler than the other actors, but I am not saying that I have reached great heights. My path is my own and it's extremely unique. I come from a non-filmi background and I didn't have a godfather. I have learnt my craft on the job – which I am not proud of. Had my talent been discovered earlier and the three years of graduation I did in Economics Honours had been given to a film school, it would have had served me better in my life. I am not the kind of person who survives on other people's comments. I have an audience and a fan following. I didn't even realise that I was away from films for almost ten years. So I love TV for that.
What was your first reaction when you were offered your first judging assignment? Did you have any inhibitions then?
My first rule was that I am not supposed to be told what I want to do. When I do television I am Sonali and when I do films, I play a character.
Life OK doesn't have great ratings – does that bother you?
It's coming up every week. Mahadev has good ratings.
How's your chemistry with Terence Lewis, your co-judge on HKH?
We get on pretty well. He's a very good human being. Most importantly, he's superb with kids. He's not stand-offish and kids love that about him.
How difficult has it been to manage motherhood and career?
It is a bit of a challenge only 'coz there are certain priorities that I don't compromise on. But honestly, there are people who are willing to work around the conditions that I have. They understand that my priority is my child.
You think TV is a great platform for Bollywood mommies who don't intend to get into the acting grind again?
Well, a lot of them have tried…and how many have succeeded till now? (Smirks)
You recently sprang to Aishwarya Rai Bachchan's defence when the media was being too harsh commenting on her weight. But isn't criticism inevitable when you are a celeb?
I was asked for my opinion at a press con, so I just gave it. I did not start the topic on my own.  I think it's her life; if she wants to lose weight, she will. If she doesn't want to, she won't…so let her alone.
How do you cope with the constant media glare?
I compartmentalise. When I am home, my focus is family. When I am giving an interview, I am busy just doing that. So being able to compartmentalise keeps you sane.