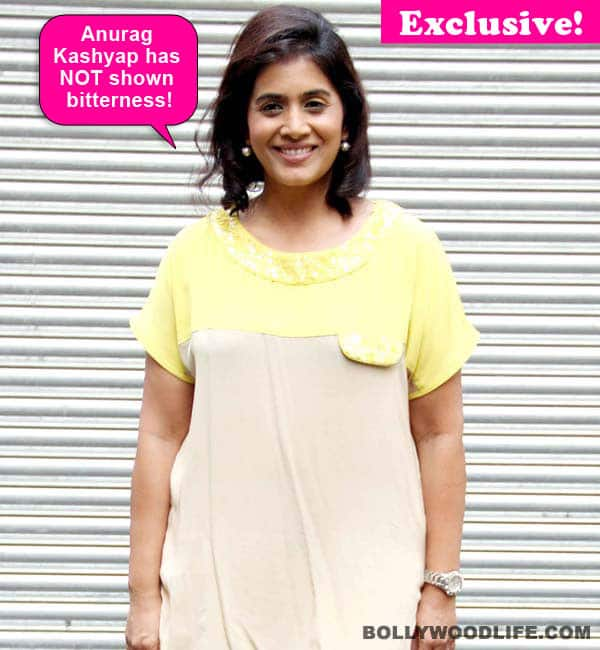 Excited that her Gujarati movie The Good Road will represent India in the Best Foreign Film category at the Academy Awards, Sonali Kulkarni talks about how she was convinced to work in this small-scale film and why she thinks that her moment of triumph was unmarred by controversy generated by filmmaker Anurag Kashyap's response to the rejection of The Lunchbox
Debutante feature filmmaker Gyan Correa's National Award-winning Gujarati film The Good Road will be India's official entry to the 2014 Academy Awards. It was chosen over the widely-favoured The Lunchbox, starring Irrfan Khan and Nimrat Kaur, promoted by Karan Johar, among others. The moment of victory for The Good Road was marred when Anurag Kashyap, the producer of The Lunchbox, expressed his disappointment and demanded to know why his film did not make the cut. We caught up with Sonali Kulkarni – who plays a key character in The Good Road – on a windy Friday evening at her Mumbai residence to know how her shoestring budget movie made it to the Oscar nominations and why she thinks that it is perfectly normal for Anurag to express his anger and distress….
Just a few days ago not many knew about The Good Road and now everybody is going gaga about it…
I don't know why most people were not aware about this film. It won the National Award. It was released all over Gujarat. It also made a mark at the London International Film Festival this year. So it's not that the film has come from nowhere. In fact, it has been doing its work quietly and making India proud everywhere.
The movie has courted controversy. Do you think that has given it more mileage?
It's how you look at it. There was no intention to create any controversy at all. It's a very simple and a small film. We had limited funds and the effort was genuine.
You have been talking about the inherent innocence of The Good Road. What seduced you to be part of this shoestring budget project?
I get fooled very quickly (laughs)! I have been gambling right from the beginning of my career. My first telefilm Cheluvi was with Girish Karnad. Working with Karnad and being trained by Satyajit Dubeyji, who is also my teacher, has added a lot of value to my life. I support good cinema. I have worked in practically every language as far films are concerned -from Tamil to Bangla and English to Italian. I also work in Hindi movies and in Marathi, which of course is my mother tongue. For me the story is important. If I like a story, I say yes to that film.
You have worked in a Gujarati movie before – Love Is Blind. Did that experience help?
Yes, it made me more comfortable with the language. Anybody who lives in Mumbai should know Gujarati, since it is dominated by Gujarati and Maharashtrians. For this particular film I had a trainer, Trishala Patel who helped me to get the language correct. Also I speak very Mumbaiyya Gujarati, so it was very normal for me to speak the language.
The Good Road is the story of a child who gets lost on a journey; his mother finds him in the end. It depicts how a bad journey ultimately takes a good turn. Did you feel while shooting for it that this journey would take the film to the Oscar nominations?
Not at all! As I said, it is a small film. So the entire effort was to complete the movie and to release it. We shot at the Rann of Kutch. In the barren land, while shooting for the film, I was thinking about life in general, the choices I made as an actor. My heart was filled with humanity and love when I could see no one around me. I had lost the understanding of direction. It was an overwhelming feeling. I was glued to the film and the film was glued to its core subject.
Anurag Kashyap expressed shock and disappointment that The Lunchbox was not selected. You were highly disappointed when your film Daayra was not selected for the National Awards years ago. Is that why you can relate to Anurag's sentiments?
Oh yes! And not just for Daayra. My feelings were the same for Devrai and many other films where I thought I deserved recognition for my performance. I felt a great amount of disappointment and jealousy. I was questioning myself – asking why my performance was not taken seriously. I was not well versed with social media then and it's not my nature to express disappointment or anger. I have always tried to take it as a challenge and excel.
It's one thing to express disappointment, but being bitter is quite different…
I don't think he (Anurag) has shown bitterness. If we are talking particularly about Anurag Kashyap and Karan Johar, then I think the two are very clear about what they are saying. There are others who are reacting to the tweets (by Kashyap) and they have said 'n' number of things and have expressed their feelings with a great amount of excitement. People who are neither filmmakers nor film critics are reacting, which is unfair.
We spotted you on the red carpet at the premier of Sridevi's English Vinglish almost a year ago. Your film was pitted against hers before it was chosen as India's official entry to the Oscars…
This decision means that The Good Road is valid to represent India this year. I don't think I am here to compete with Sri ma'am. I am a huge fan of her work and nowhere do I feel that my film has beaten her film or any other film which were competing in the same category. I genuinely loved English Vinglish.
How do you see the journey ahead for The Good Road till it makes to the Oscars?
I want to do whatever I can in my capacity to represent the film. I definitely want The Good Road team to meet the team of Shwaas – the Marathi film that was India's official entry to the 2004 Oscars – and the Lagaan (2001) team, including Aamir Khan and Ashutosh Gowariker to take guidance from them on how to take the film forward.
Watch the video interview!
: