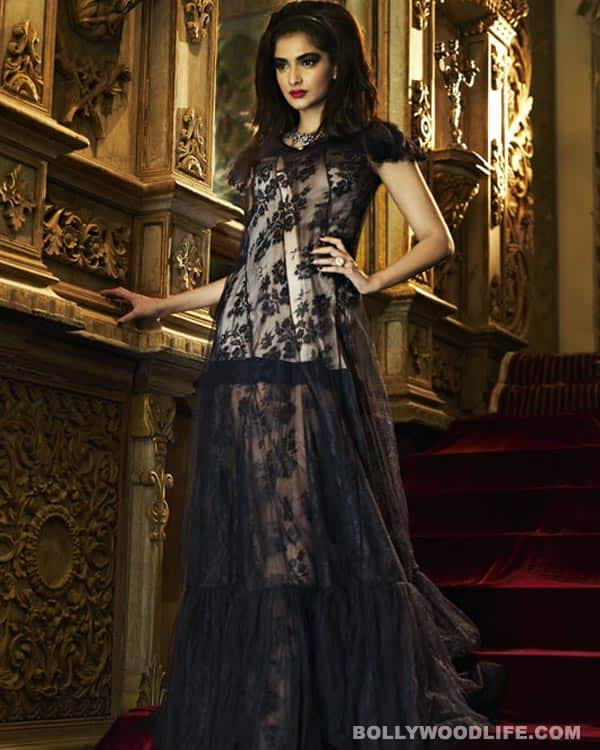 The fashionista was recently spotted wearing dark hues by designer friend Shehla Khan. Well, we simply loved the way she looked. But what next?
Talk about Sonam Kapoor's style and we have oodles of content (all of brilliant quality, mind you) that will blow you away. Why, even Roberto Cavalli complimented the lady by saying that she is one of the most beautiful women in India. But talk about Sonam Kapoor's stint with acting, and we (along with many others) are…errr…groping for the right words. Agreed?
So when we saw Sonam dressed impeccably in the dark hues created by her designer friend Shehla Khan, we were – as expected – impressed. But that reaction was closely followed by a question that we would like to ask loud and clear – Is Sonam Kapoor as serious about her acting as she is about the dresses she wears? We, for once, we are beginning to have serious doubts about it.
Oh, by the way, did we mention that Sonam has – apart from classy apparels in her wardrobe – three movies in her kitty? Yes, she does, and they are Bhaag Milkha Bhaag in which she will appear for a tiny duration of time, Raanjhnaa where she plays a Benarasi girl and an untitled movie where she will star opposite newbie Sushant Singh Rajput. Ah! Nothing unusual, we say.
Still we optimistically wonder if these three movies will change the way Sonam is perceived – a fashionista who is conveniently ignored when 'acting' is the topic of discussion. Will these movies bring about the difference that seven movies and five years in Bollywood couldn't?
What say, readers: Will Sonam Kapoor ever transform from being just a fashionista to being a respectable actor?