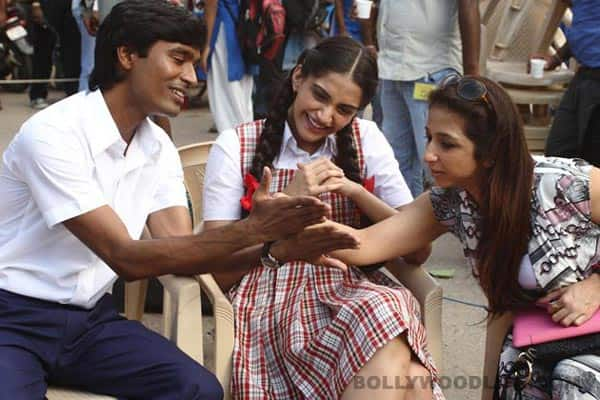 The actor was spotted wearing a plaid school uniform while shooting for her next film Raanjhnaa opposite South star Dhanush. And we wonder what made Sonam Kapoor think that she could pull off a juvenile look at 27
Looks like Sonam Kapoor has taken the whole idea of experimenting with her looks a bit too seriously. We hear that she has been happily frolicking in the serene locations of Varanasi along with Kolaveri di star Dhanush. It seems Ms Kapoor and Rajinikanth's son-in-law have taken their roles so seriously that they actually behave like children even while they are not shooting, which is why the locals around the place have not been able to recognise the two stars. Now although that saved the crew from dealing with all the ruckus and chaos that usually ensues while a shoot is on, we are least bit bothered about all that. In fact, we are desperate to know the storyline and synopsis of the film, and are still puzzled about why these two adults are playing youngsters in the movie. Doesn't that sound supremely ridiculous?
And since the film is an out-and-out love story, what we really want to know is if these two kiddos are ever going to grow up. Or maybe they are more than happy to revel in all the childish fun and banter, which obviously they don't do too often. As long as they don't infuriate us with their immature antics, we don't care a hoot what they get up to….