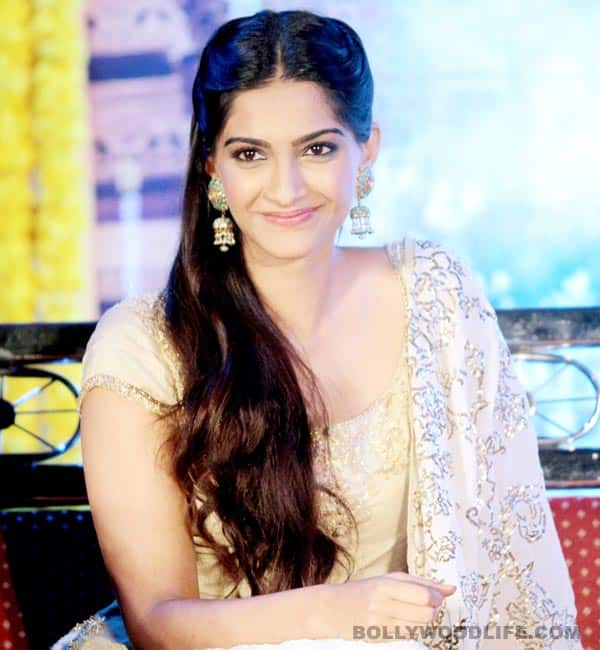 Yes, we heard that the red-carpet fashionista has bigger plans than just acting. She will some day be a movie director. Why are we giggling?
When you have a leggy lass like Sonam Kapoor walking down the red carpet at some international event, you know she belongs there. When you watch her in a film like Aisha, or even I Hate Luv Storys, she fits right in. Her hair, makeup, accessories, attitude…it is all perfectly choreographed and she looks picture perfect each time. Of course, she played an interesting character in her first, Saawariya, where her wardrobe was more interesting than her acting; Delhi-6 was neither here nor there. Then she went on to do more urban movies like I Hate Luv Storys and Aisha, where her…err…talent was superbly showcased. With Raanjhanaa she could be breaking the mould, because what we have seen of Sonam in the promos is pretty impressive.
But what has impressed us more is her resolve and her moohphat quotes. She says what she thinks and expresses her likes enthusiastically, whether for Kareena Kapoor Khan's style statements or for Deepika Padukone's personality. And her apologies for any tactless remarks come as easily and genuinely, wethinks. But when she recently announced that "Apart from being an actress, I want to direct films. Maybe this will happen after 10 years", we had to stop a moment to think. Sure, she is a voracious reader and, like so many in her generation, is well-informed about cinema, but a director? Really? Hmm….. Could it be because her thespian skills are limited and it would take a very special filmmaker to bring those to the fore and there aren't too many of those folks around? Or is it because fashion and style is ephemeral and could already be starting to get tedious…nah, we don't think so. Or do we see the real, non-PR Sonam here, the gal who has a career plan chalked out for herself?
What do you think?