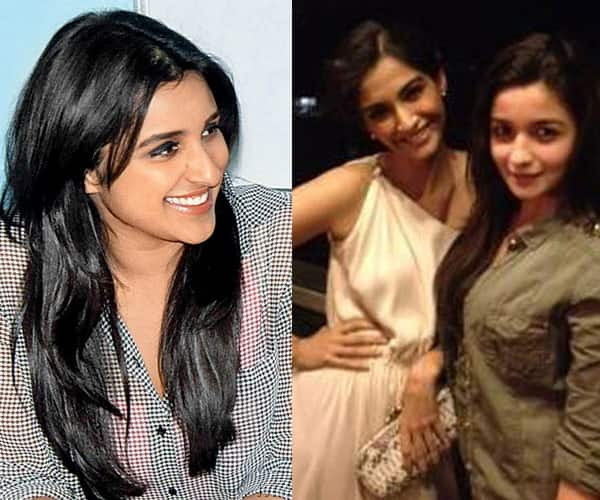 The self-proclaimed fashion icon of the century took digs at the Ishaqzaade actor's dressing sense on Koffee with Karan but now we hear that the two have buried the hatchet. Could it be that Sonam has forgotten her "little baby" and moved on to find a new bestie in Pari? Read on to find out…
Though Sonam and Parineeti don't have the same views on Deepika Padukone, the two have decided to move past their differences and be cordial with each other. In Karan Johar's popular chat show, Parineeti was quoted saying that Deepika Padukone is the reigning queen of Bollywood and that she would want to erase Ranveer Singh because she loves Deepika! On the other hand, Sonam Kapoor passed a snide remark during the rapid fire round on both Parineeti and Deepika saying that the Shudhh Desi Romance actor should refrain from wearing body-hugging clothes and the Ram-Leela actor's overzealous PR team is the reason behind her increasing popularity.
Well the chirpy Parineeti decided to be the bigger person at Karan Johar's gala birthday bash as she walked up to Sonam and tried making conversation with her. The two had a long chat mainly about fashion and at the end they even exchanged number giving us a sign that they might stay in touch and it might blossom into a friendship.
Sonam Kapoor and Alia Bhatt have gone gaga over each other at a variety of occasions. Sonam was even quoted saying that Alia Bhatt makes her want to direct. Similarly, Alia just loves Sonam! Now it looks like Sonam has found herself a new friend. These new budding friendships might take a toll on some existing ones, don't you think?
Unfortunately, we cannot say anything about blossoming friendship for Sonam and Deepika because the fashionista of Bollywood has been quite nasty in her comments about the YJHD actor. Parineeti has taken all negative comments made about her in her stride. Be it Sonam or Alia, she has forgiven them all and taken down her opponents with the power of love! All we can see is that Parineeti is playing it safe in the industry as she isn't letting anyone harbor ill-will against her. Is it a tactic to make life easier in Bollywood, certainly looks like it and we applaud Pari's smart moves!