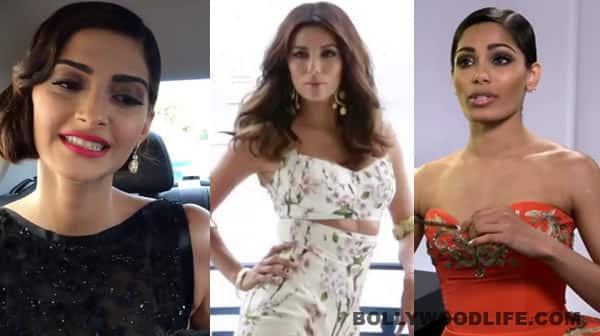 Three stunning beauties, with strong individualistic and highly glamorous personalities, walked the red carpet at one of the most glamorous events of the year. Take a look at this video and tell us who made you go ooh la la…
Sonam Kapoor mesmerized us once gain with her impossible-to-replicate sartorial sense. The 28-year-old made heads turn with her appearance at the red carpet of the 67th Cannes Film Festival to reinforce her fashionista image.
Upping the ultra-glamorous quotient Sonam was seen in a vintage Elli Saab couture that only accentuated her lean and tall frame. Classy as ever, Sonam dazzled the onlookers with her understated confidence and grace. Her gorgeous red pout and the unmistakable faux bob won her an instant recognition. In this video video you will see the beauty taking every step carefully as she walked in the corridors of a hotel before getting ready for the show-time. "I hope my dress doesn't get crushed in the car," says a worried Kapoor gal.
Another Indian beauty, who is making waves internationally with her evenly olive complexion and sharp features, was spotted posing for the cameras in a strapless outfit. Yes, the Slumdog Millionaire famed Frieda Pinto was spotted striking some really interesting pose against the backdrop of the turquoise water body at the French Riviera. Watch Miss Pinto sharing some workable make-up tips in the video!
And then there is Eva Longoria! The Desperate House Wives stunner was seen grabbing serious attention with her nude outfit in a high-neck long sleeved attire. While the 39-year-old's powerful presence was enough to make paparazzi go bonkers, we must add that the cut-out section at the front of Eva's daringly-bold dress added the much-needed drama to her look.