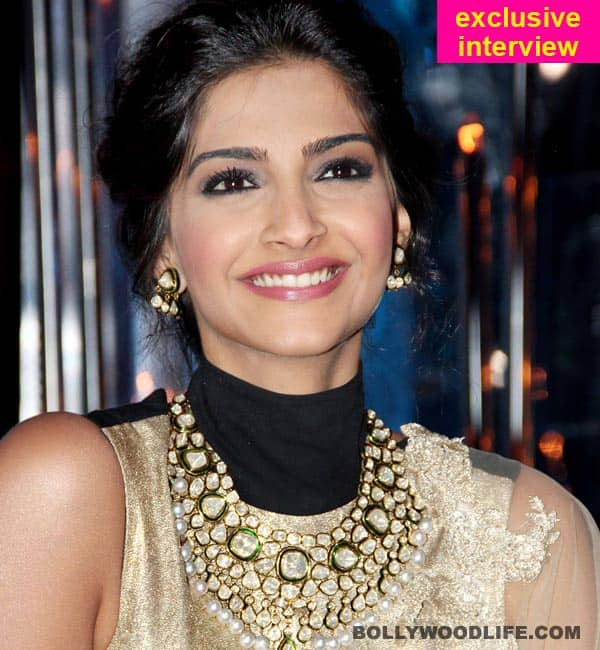 Fresh from the success of her recent release Raanjhanaa, Sonam Kapoor opened up to BollywoodLife. The style diva spoke about her next promising venture Bhaag Milkha Bhaag and how she continues keep her fans spellbound with her amazing style sense
Sonam Kapoor's body language reflects the mood of the cloudy Saturday afternoon in Mumbai. We are at her plush residence in Juhu. The torrential rain has just calmed a bit, leaving the fashionista in the mood to laze on the cushy couch in her living room. But congratulate Sonam on the success of her recently released movie Raanjhanaa and the babe springs back to life with her trademark vivaciousness….
Were you expecting the unbelievable reaction that your film Raanjhanaa is getting?
I am very happy with the reactions the film has received. While working on this project never did I imagine that we will get so much appreciation from audiences. I worked hard on this movie, just the way I work on any other film. It is up to God that some films become successful and some don't. I enjoyed working with Anand Rai (director of Raanjhanaa). He is my favourite director. I would like to work with him again.
Your chemistry with Dhanush has been appreciated a lot. The Kolaveri di singer has done a fine job in the movie. What do you have to say about his Bollywood debut?
Dhanush is a very good actor and he is a very good human being. I think that's what an aam aadmi likes- this rare combination of a good actor and a very good human being off the screen.
Do you think you are proving to be a luck factor for newcomers in the industry? You and Ranbir Kapoor debuted together in Saawariya. Today Ranbir is a huge success and now Dhanush has made a successful debut with you.
I think the magic lies in the script. If the movie is good, it will become a hit. I don't consider myself lucky for anyone.
There's a strong buzz about Bhaag Milkha Bhaag. Fans are looking forward to this movie. Tell us, how well are you going to support the Flying Sikh aka Farhan Akhtar in this film?
I have a very small role in this one. I think it is more of a special appearance. Having said that, I would like to add that my character is instrumental in turning Milkha into the Flying Sikh. I play a Punjabi kudi. She is very beautiful and very innocent and she inspires Milkha to explore his true potential. Unlike my character Zoya from Raanjhanaa, this girl in BMB is very shy and pure at heart.
How do you pick your films?
I make crazy choices. When I signed Raanjhanaa people were like 'Arre, tu pagal ho gayi hain kya?' (have you gone mad?). Any film I sign, people think that I am going mad. But my choices have helped me do good work. I don't get typecast. I am working with the best directors. I am getting to work with Rakeysh Omprakash Mehra, with Farhan Akhtar. I am getting to work with Anand Rai and portray a character like Zoya. I am working with Yash Raj in a film where characters are very strong. I am gaining new experiences and do what I like to do.
Is this a conscious move on your part that after showing your stylish self in Aisha you are playing small town characters first in Raanjhanaa and now in BMB?
My character Zoya is the prettiest girl in Benares. So she was glamorous in her own way. Just because I am wearing Indian dresses in the movie, you cannot conclude that I am less glamorous. In Aisha I played a South Delhi, high-society girl. I think every girl can be glamorous in her own space. I don't want to be typecast. I am playing a village belle in BMB; then you will see me in a different, corporate-cool kind of avatar in the Yash Raj film opposite Ayushmann Khurrana and I will be a lot grungier in Khoobsurat. Yes, I have made these choices consciously and they will pay me in the long run.
In Raanjhanaa, your character is very politically opinionated. In your personal space too you voice your opinion clearly, even when most people think that it is best to remain silent or be politically correct on various social issues….
Because I am a public figure, I get noticed for my response to some of the idiotic and stupid remarks some of our spiritual and political leaders make. I say what I feel like saying. I say it on a social platform. I don't think there's anything wrong with it. It encourages young girls to come forward and share their views. If somebody is telling me you cannot wear a short skirt because boys are going to be rattled by it, obviously I am going to raise my voice against it.
If I, as a public figure, cannot voice my opinion, then other girls won't come forward to say what they want to say. I may not be a huge star or a very popular figure. But whatever fame I have gained, I want to make use of that to better the way women are projected. In fact, it is irresponsible to not have an opinion and to be politically correct all the time. You should stand for what you feel is right. I am doing that in my small capacity.
Do you think one needs to be politically correct to stay safe in the industry?
It is shameful that some actors do not want to talk about social topics, be it Jiah Khan's death or the Uttarakhand tragedy. Not voicing your opinion is so incorrect. You cannot be politically correct on issues which need to be discussed. If you want to be politically correct, then don't bitch about anyone. How many actors do that? I will never criticise any actor on the personal front. But when it comes to important things, then I should have an opinion.
 Farhan Akhtar is playing Milkha Singh on the big screen – name one icon you would like to portray on the silver screen…
I would like to play Meena Kumari. She had a tragic life.
Sonam, you cried at the trailer launch of BMB. What got you so emotional?
Have you not seen the trailer? Did you not get emotional? I feel that I am blessed to be a part of this movie, even though my role is very small, because I know this film is going to go down in the history as an iconic film. I know Rakeysh and Farhan have made a film together which is really amazing. The blood, sweat and tears that have gone into making this film is insane. When I saw the trailer I thought 'Oh my God, I am a part of it' and I started crying.
We hear that you charged Rs 11 for this movie..
Main pagal hoon. I could not thank Rakeysh enough for making me a part of this beautiful film. I would want to make it very clear that this film was a one-off movie. Otherwise where will I get the money from to shop if I don't charge for acting? I think this movie is special because I believe that sports in our country don't get the push they deserve to get. This movie will encourage people to take up sport.
How was the experience working with Farhan Akhtar?
I did not meet Farhan Akhtar at all! He became Milkha Singh. I never met Farhan Akhtar on the sets.
You continue to surprise us with your immaculate style sense. How do you do that?
I have a multiple personality disorder, so I try to play different people. I experiment a lot and most importantly, I manage to be myself even then!