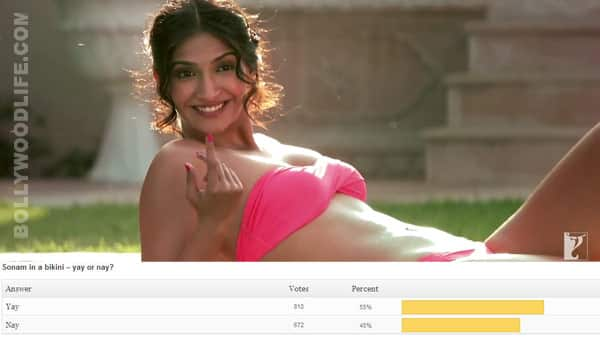 We conducted a poll asking you if Sonam looks hot in a bikini. Well, here are the results
In her new film Bewakoofiyaan, co-starring Ayushmann Khurrana, Sonam Kapoor wears a shocking pink two piece as she lazes around a swimming pool with her hero. Honestly, we were a bit surprised with Sonam's new and bold avatar given that she had once vowed never to wear a bikini on the silver screen. We totally approve of the fact that this heroine who has always chosen class over mass is making an effort to change track, but does she make the bikini babe?
That's the question we asked you, and going by the results, it seems that people like Ms Kapoor's changed image in Bewakoofiyaan. We received a total of 1,482 votes of which 55 percent liked Anil Kapoor's beti's bold avatar. And of course, there are certain people who think that Sonam doesn't make a bootylicious bikini babe. Anyway, the fashionista has won the poll by a relatively small margin and if she is reading this, she would be surely happy about it.