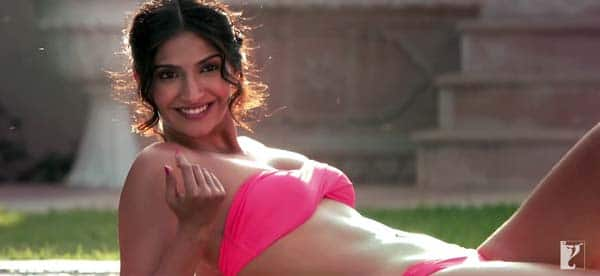 The Raanjhanaa girl has certainly changed her image in Bewakoofiyaan – she sheds her inhibitions and her clothes. But does it work? You tell us…
It was in Aisha that Sonam Kapoor wore a swimsuit. But she covered it up carefully with a pair of shorts, not showing more leg than she would in ordinary street clothes. And in various interviews she has said that she did not have a bikini body like Bipasha Basu, Anushka Sharma or Deepika Padukone. "I have a big bum, big arms; I have cellulite," she was quoted as saying. But from fatty to hottie is a journey that Anil Kapoor's beti has taken in her stride. And soon after her first film she slimmed down even further, finally admitting that a bikini babe was not the role she wanted to portray at the time. "I think I can look hot even without wearing a bikini," she insisted. And she chose the route of haute instead, being seen in fashion choices that ranged from regal to edgy, Indian to international, adding more clothes to her wardrobe than kudos to her acting resume.
Things now seem to have charged up in Sonam's repertoire. In her new film Bewakoofiyaan, co-starring Ayushmann Khurrana, the lissome lady wears an itsy-bitsy BollywoodLife shocking pink two piece as she cavorts in a swimming pool with her hero. We approve totally of the colour and the fact that a heroine who has always opted for class over mass is finally making an effort to change track. But does it work? Does Sonam make the bikini grade? We are not yet sure about that one. Somehow either the swimsuit or its wearer is not quite right. When we put our super-sharp fingers on it, we will let you know what the problem is…
What do you think, BollywoodLifers? Is Sonam a bootylicious bikini babe or no?