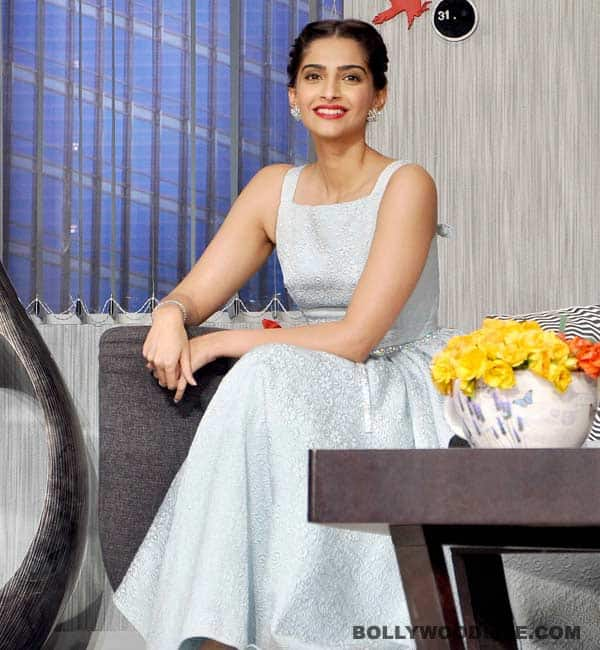 Fashionista Sonam Kapoor spills the beans to British journalist Ashanti Omkar, on her forthcoming film with Disney, the remake of the Hrishikesh Mukherjee 1980 classic Khoobsurat, while also giving us the lowdown on her current release Bewakoofiyaan and more. She was wearing Dior, in London, and was in the city for some personal work, which she is keeping a surprise…
So Bewakoofiyaan looks rather exciting…
It is, it is. It stars Ayushmann Khurrana, Rishi Kapoor and I and it's a slice of life film, like the way Habib (Faisal) likes to write. He wrote Do Dooni Chaar, Band Baaja Baaraat and Ishaqzaade. He then wrote Bewakoofiyaan and Nupur is directing it. Nupur Asthana – she made this really cute, simple nice film called Mujhse Fraaandship Karoge. I liked her work and I liked the script, so I decided to do this film. It was a change from my character of Zoya from Raanjhanaa. It was a modern girl who had simple problems, as opposed to really difficult problems. Her issue were about getting married, money, getting to her job on time, getting him before curfew. It was nice to actually have real girl problems, which weren't like death defying ones (laughs).
Making these huge changes in your career graph, from films like Bhaag Milkha Bhaag and Raanjhanaa to a film like this, which is lighter in genre. How do you prepare for these roles?
You know, with Raanjhanaa, I actually went out for 3 months and went to Delhi and did 3 plays. For Milkha, I sat with Mehra, I sat with Farhan and whoever I could, so I could figure out what this character has to actually be like and what this girl would look like and dress like, how she would behave, her language, etcetera, etcetera. With Khoobsurat, my forthcoming film, I play a physiotherapist, so I sat with several physiotherapists and with a sports scientist, who basically explained a lot of things about injuries and I did around 10-15 days. This made me understand the human body and how it works, and stuff like that. I cut my hair, I pierced my ears and so many things for Khoobsurat. For Bewakoofiyaan, it happened that my director's sister is a banker and my grandfather was a banker. It was basically from what I'd experienced back a home and my chats with Nupur's sister, about the dress code, for example. How you speak, how you behave and carry yourself, and you actually are a salesperson. But you come across as someone who is more responsible and not so sales-person-like, I think that's the way to describe it. I was excited about the role. As an actor, you get to play a banker, a political leader, a doctor – it's nice as you actually get to research different people in such a short span of time.
Was role-play something you enjoyed as a child?
Of course, didn't everybody? I didn't like Barbie dolls, so I used to have this over-active imagination and I used to pretend to be all these different things. My weird childhood fetishes seem to have come to life now, as an actor (smiles).
You're very active on Instagram and I love your feed – I know who your friends are now… Do they keep you grounded?
Thank you. Yes, I love my friends. I think everybody knows my friends now (laughs), as it's only like 5 of them on my Instagram all the time. it's fun showing the audience that besides my acting, I have these friends and family and also these people who work with me, who are also my friends. My Instagram is filled with girls (laughs).
And of course, Arjun Kapoor, at the moment…
Yes, Arjun and Ranveer (Singh) from bumping into them at Yash Raj Studios. I've grown up with them and for me, I'm very proud of what they have achieved and what they are doing individually and together, with a film like Gunday. I'm excited about their forthcoming releases and Gunday I think is a great change in the direction their careers are veering in.
Let's talk Khoobsurat, as it was an iconic film for me, as a child growing up in Africa and it was shown on Saturdays, and a a repeat frequently. It was something that was light but also female empowering…
Yes, I am going to be 'her'. Disney has decided that this is a pivotal film they are going to produce in India and that is going to release worldwide. They want to start their production in India with Khoobsurat, as it is everything Disney. It is wholesome, it has a message and it has characters who are loveable and real, and who teach you something. It has the values that Disney wants and my sister Rhea is co-producing it. We want to give children and young adults things that are aspirational, as opposed to vampires and warewolves.
You don't watch the Vampire fantasy films?
I do I do – I actually love them. My guilty pleasure.
What do you watch in the cinema?
Recently, I watched Silver Linings Playbook, which I really liked, last year. And films like Blue is the warmest colour, Lincoln – some come out a little later in Bombay. And the Leonardo De Caprio film, The Wolf of Wall Street I just saw recently. I enjoy these things and I had a special screening for Wolf of Wall Street because there was like a weird edited version in Bombay and I wanted to see it unedited. I had called for a print, so I could watch it.
You're in London all the time and cite it as a favourite city… Where do you hang out?
I love walking down the streets of London and I like Soho a lot – it's changed and there is something really nice about the area. I can't do Oxford Street anymore (laughs). Notting Hill and little quirky places – my friend stays there, so I enjoy it.
How about food – where do you eat?
I eat everywhere (laughs). It's constantly changing, as there are so many restaurants in London, to choose from.
And a fan message?
Make it a good 2014, Work hard, watch my films (smiles)…
Also Read: Sonam Kapoor: Wearing a bikini is not at all a big deal for me!