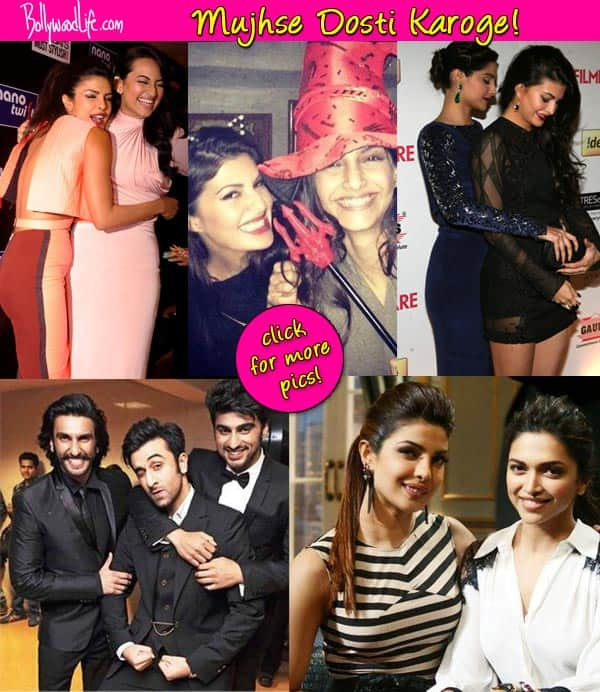 skip advertisement
We hear and read a lot about the filmi friendships. Let's take a look at the friendliest folks from B-town
Many a times actors are pitted against each other. A lot of friends turn foes in B-town, courtesy their films clashing at the box-office or their ex-partners beginning to date their good friend and so on. Sonam Kapoor and Deepika Padukone, who were good friends and even shared Karan Johar's controversial couch in the past to bitch about their common ex, were back biting each other on the same couch this year. These aren't the only two actors whose friendship soured over the years. Anyways, we are here to talk about the friendliest actors in B-town. So who are they, you ask?
Well, the list includes Sonam Kapoor, Sonakshi Sinha, Arjun Kapoor, Ranveer Singh, Jacqueline Fernandez and Priyanka Chopra. Keep reading!
Sonam Kapoor: While Sonam might not be on good terms with DP anymore, she has a gang of girls to hang out with. She is good friends with Jacqueline Fernandez. What more, she had even posted a picture of herself with Kareena Kapoor and called Bebo her good friend. Ms Kapoor might have done some snooty roles on the big screen, but she's one of the friendliest babes of B-town, we hear!
Jacqueline Fernandez: Jackie's upcoming film Kick, opposite Salman Khan, has Nargis Fakhri for an item number, but that doesn't sour anything between the two. In fact, unlike other actors, Nargis and Jackie exchanged praises and kisses on Twitter recently. The Race 2 actor is even good friends with Sonam Kapoor, despite the fact that the two have never shared screen space.
Ranveer Singh: This actor is a power-packed bundle of entertainment. But one can't help but notice his jovial nature. At any event, Ranveer warms up to everyone very quickly. The actor's friendship with Deepika Padukone is always under the scanner. But apart from her, he is also very close to Arjun Kapoor. At a recent event, the Ram-Leela actor was seen bonding with Kalki Koechlin. What more, on one occasion, he was even spotted sharing some goss with Deepika's ex-flame Ranbir Kapoor. Now, ain't that what we call over-friendly? Wink, wink!
Arjun Kapoor: The 2 States actor is very good friends with his Gunday co-star Ranveer. Their 'bromistry' had grabbed headlines time and again. The actor is also friends with Ranbir, Varun and Katrina. He got along well with Alia Bhatt while shooting for 2 States and even has a soft spot for the young girl, we hear. All in all, he's a friendly lad, who gels pretty well with other B-townies.
Sonakshi Sinha: While Sona likes to maintain that she has no friends in the film industry, there is very little truth to it. Apparently, the Holiday actor is known to be good friends with the fashionista Sonam Kapoor. So now you know how Sona's style has transformed in the recent times. Apart from the Khoobsurat actor, Sona was even spotted hanging out with Sidharth Malhotra and if sources are to be believed, she had invited him to a party hosted by her. Well now, one doesn't invite someone to their party unless they are friends, hai na?
Priyanka Chopra: The Exotic babe is really busy these days, considering that she's no longer limited to Bollywood. However, she still has folks from B-town to call her own. We're sure you remember her camaraderie with Deepika on Karan Johar's popular talk show. PC is even friends with Sonakshi and Anushka. In fact, PC cleared the air about any tiff between her and Sona and the two girls were spotted giggling together…
Well that's all folks, for now! We'll be back soon, with the not-so-friendly B-townies. Stay tuned, BollywoodLifers!