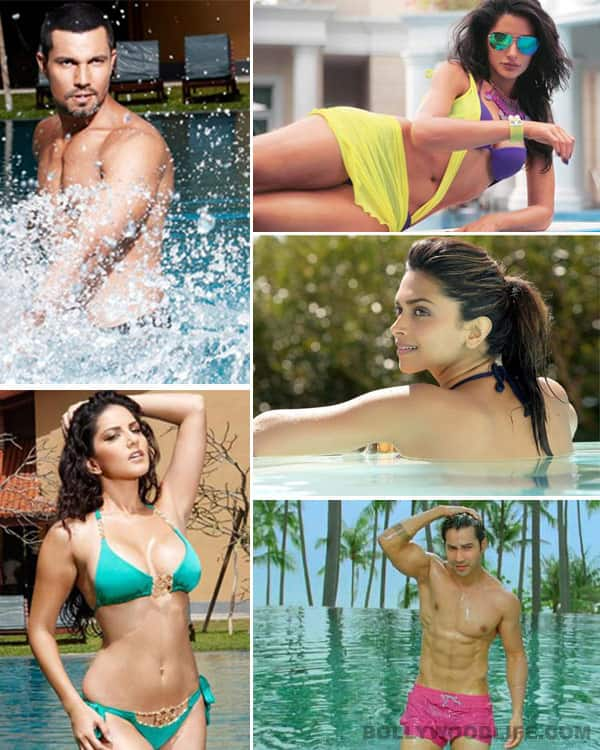 skip advertisement
We see these sizzling B-town bees turn the heat up, in their hot swimwear while cooling off near the pool. Be it a photo shoot or a still from a movie, these celebrities surely know how to keep it sexy yet cool in this scorching summer
So which one of these celebrities would you take out for a date along the pool side? Although it would be hard to pick one from a gorgeous bunch like this, nonetheless here are your options….
Priyanka Chopra
Sizzling in a neon off shoulder top, black hot shorts, red heels and blue shades, Priyanka Chopra is beauty with a whole lot of brains. This still is from her smash hit Exotic featuring Pitbull and this former Miss World can surely sizzle in that swimwear eh? Where PC knows how to keep it real with performances like Barfi!, she also knows how to glam it up in her music videos.
Deepika Padukone
Leela to a Ram and Shanti Priya to an Om. One thing we are sure of, her Jawaani is Deewani! The multi-talented Deepika Padukone has entertained us with her variety of roles. Seen chilling in the pool in this still from Cocktail, the leggy lass went on to garner a huge fan following through her performance. With showing off only a blue bikini top, this siren knows how to bring sexy "back."
Sonam Kapoor
When it comes to fashion, there's no beating this diva. Looking chic in a cream swimsuit, topped with plum lips, this Ranjhanaa star manages to keep it classy and stylish during her photoshoot for a popular film glossy. Be it the rains, storms or riots, Sonam has never failed to make a fashion statement whatsoever. Tall, lean and a sexy machine, this Aisha star can be your ultimate date!
Sunny Leone
Sizzling and sensuous, Sunny Leone epitomises both the terms. Making her entry in Bollywood through Jism 2, this star can surely work that green bikini well, in the film. Although always seen in a bold avatar, very few are aware that Sunny is a shy and timid girl. It would surely be quite interesting to figure out this mysterious beauty eh?
Nargis Fakhri
Looking every bit a glamorous diva in a neon yellow and purple swimsuit topped with green shades, Nargis Fakhri has got that swag. Seen in Galat baat hai from Mein Tera Hero, this beauty surely knows how to work it well when it comes to donning a swimwear, if not acting. Although the Rockstar star appears to be all sexy on the outside, little did you know that she is in fact a tomboy in reality. Hot, witty and humorous, Nargis will surely keep you entertained all the while!
And now ladies, it's time for the hot hunks of B-town…
Varun Dhawan
If there's one thing we still remember Varun Dhawan for, is the hot scene from Student of the Year where the hunk is seen getting out of the pool in pink trunks. Now we all are very quick to judge a guy donning shades of pink, but not Varun Dhawan. This chocolate boy knows how to rock those six packs and will surely melt your heart with his charming smile. Tempting eh?
Siddharth Malhotra
Although we don't see him in a glamorous avatar in this pic, nonetheless we are happy to know that this lad likes to have his share of 'pool' fun once in a while. His swimming trunks aren't visible to the disappointment of many fashion critics out there. His yummy body on the other hand is, yes. Athletic, tall and muscular, this Hasee Toh Phasee star has a charm and way about him like no other. Oozing oomph, yet being the boy next door, Sidharth Malhotra has layers which you would certainly like to peel. Recently seen in a raw and grungy look in the promos of Ek Villain, this good boy has gone bad so don't you mess with him on your date!
Randeep Hooda
Dusky and handsome with international looks, Randeep looks irresistible in those splashes in this still from Jism 2. Although popular for his bad boy image, this Harayanvi chora nonetheless can melt your heart with that killer smoldering smile he has. Go ahead ladies and chose Randeep Hooda cuz' he will certainly rock your hood-a!
John Abraham
He made news with half his butt dangling from those yellow trunks he wore in the pool scene from Dostana. John Abraham is the first name that comes to the minds of many, when spoken of the term "hot." Known to be a bike enthusiast, John might just take you for a romantic ride post your date. What say?
It's time to get those voting fingers out!