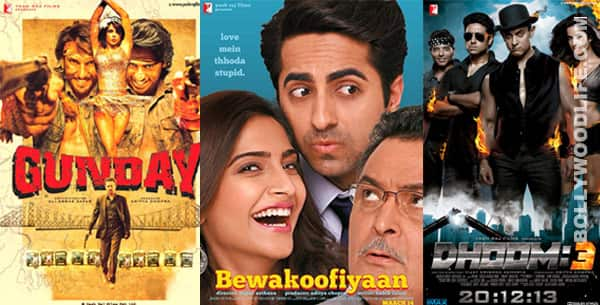 The biggest name in the industry, Yash Raj was a legend and forever will be.
The Dilwale Dulhaniya Le Jayenge maker has entertained his audience since decades and has left behind a legacy which is unmatchable. Known best for his classic creations Silsila and Mashaal, the legendary filmmaker and producer, Yash Chopra made his place in the new age of cinema as well, by giving us hits like Veer-Zaara and, Jab Tak Hai Jaan being his last. So what exactly goes on behind the scenes of the Yash Raj franchise? Here's a look at some unique moments from the making of the films, Gunday, Bewakoofiyaan and muti-crore blockbuster Dhoom 3.
Gunday: This action packed thriller was grand and lived up to the typical YRF style of filmmaking. Bikram Bose (Ranveer Singh), Bala Bhattacharya( Arjun Kapoor) and Nandita Sengupta (Priyanka Chopra) are seen in a love triangle accompanied by the typical dishum dishum sequences and macho oiled biceps. While the film gave us a new kind of dost and dostana in these two babas. Here watch Raveer, Arjun and Priyanka talk about their moments off-screen during the filming of Gunday.
Bewakoofiyaan: A light and heartfelt film, this romantic comedy manages to make the oldies feel like teenagers again. Bewakoofiyaan showcased Sonam Kapoor (Mayera) and Ayushmann Khuranna opposite each other and although not a massive hit like Bunty aur Babli or Band Baaja Baarat, this movie still made heads turn. Watch Sonam Kapoor,Aysuhmann Khurana and director Nupur Asthana relive their moments on the sets of Bewakoofiyaan.
Dhoom:3: Amir Khan as the bad boy. One can't think of any other reason to watch Dhoom:3. Extravagant dance sequences and action stunts beyond imagination, Dhoom:3 will be remembered for Amir Khan's brilliant dual role, if not Vijay Krishna Acharya's direction. And not to forget the sexy Katrina Kaif. Watch the Satyamev Jayate star bring out his big bad side in an exclusive look at behind the scenes of Dhoom:3.