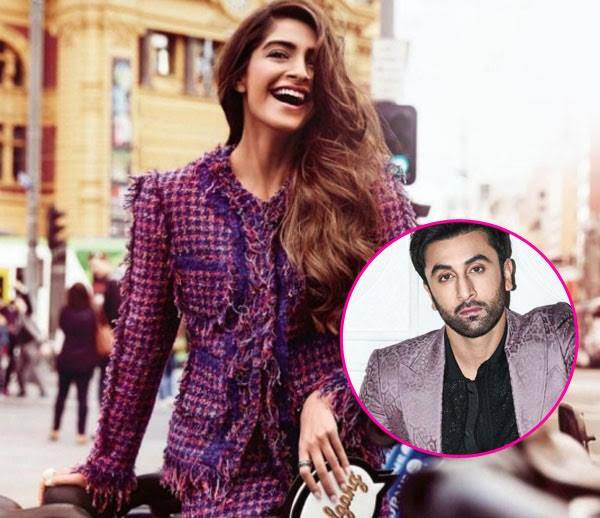 Now we all heard that Sonam Kapoor will be reuniting with Ranbir Kapoor after a gap of ten years for their next project directed by Rajkumar Hirani. However when she was asked to divulge any more details about this, she refused saying, she can't give confirmation about any of her future projects till the time the director or producer approves it but she would like to work with Rajkumar Hirani someday.
It had been reported that Hirani has zeroed in on Sonam Kapoor to play an actor from the 1980s and 1990s in Sanjay Dutt's biopic opposite Ranbir Kapoor. vWhen she was asked about this, she said "That you've to ask Raju sir. I can't talk about any of my upcoming films till the director or producer speaks about it.However I would like to work with him in whatever capacity I can."Also Read: Sonam Kapoor and Ranbir Kapoor to reunite after a decade for Sanjay Dutt's biopic
Earlier we heard that the actors will be romancing each other in the film. Now would you believe that? Ever since Saawariya, we never saw them together but looks like after 10 years, they will be reuniting after all! A leading tabloid reported saying, "Her (Sonam Kapoor) character is not reflective of any particular woman but is a fictional amalgamation of the many women Dutt dated through the 1980s and 90s." As we know already, Dutt's biopic has been on Rajkumar Hirani's mind for quite a while now and for almost two years Ranbir has stated that he very much a part of the project. Although, this project has taken quite a while to finish with the pre shooting scenes but the biopic will finally go on floors next year. Also Read: ALSO READ: Ranbir Kapoor's Sanjay Dutt biopic to finally kickstart in January 2017!
The actress who was present at the Brand Vision Summit 2016 was also heard talking about her movie Neerja which released this year. She said that doing Neerja  was important for her. "It is very humbling that people expect me to get the National Award for Neerja but honestly speaking, I will not be disappointed if I don't get it. Because doing the film itself is very important to me," she further added.
Sonam Kapoor's off shoulder dress will make you drool

Sonam looks super hot in this dress where the actress is seen in a plunging off shoulder dress. She pulled off the outfit with grace and looked absolutely stunning.

Sonam Kapoor rocks the basic look in the blue flared dress

Sonam carries this blue dress by Roksanda with grace. She pulls minimalist at it's best and has made us a fan of her look.

Sonam Kapoor looks angelic in this dress by Delpozo

Sonam walks in like a princess wearing an elegant fluffy dress. The shades of blue is what catches the eye the most. We totally love the look.

Sonam Kapoor poses in her Neerja hairstyle and looks dreamy.

Sonam's this look will make you go weak in the knee. We love this royal look the actress sported for the shoot.

Sonam Kapoor's chic look at the airport is totally retro

Sonam's polka dot top with bell sleeves reminds us of the retro. The actress pulled off the long with a pleated skirt and looked glamorous.

Sonam Kapoor looks sultry in this airport look

Sonam Kapoor's style game is on point. The actress pulls off basics in the classiest way by pairing it with leather boots and a scarf tied around her neck.

Sonam Kapoor looks dramatic in this black and white dress by Masaba Gupta

We loved Sonam in this floor length outfit she was seen in for a shoot. The outfit was paired perfectly by pearl earrings and the winged liner added more drama to the look.

Sonam will also be playing one of the lead roles in Shahanka Ghosh's directorial "Veere Di Wedding". Its a romantic comedy co-starring Kareena Kapoor Khan, Swara Bhaskar and Shikha Talsania.