Sonam Kapoor wants to go raunchy and wear a bikini!
BollywoodLife
Last Updated: 3.59 PM IST 11.08.2011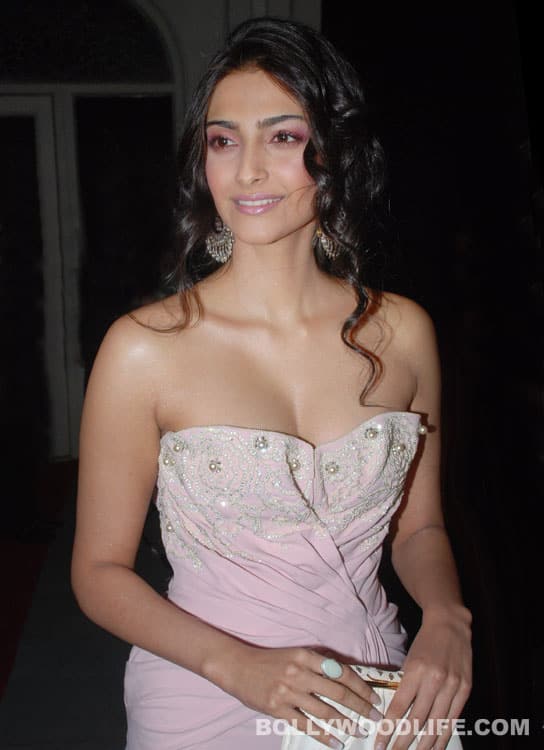 Raising her middle finger, wishing for itsy-bitsy swimwear… looks like the Mausam actor is keen on shedding her girl-next-door image
The entire nation heaved a disappointing sigh when news broke that Katrina Kaif will not be seen wearing a bikini in Dhoom 3. The sultry siren has reportedly signed a 'No bikini' clause for the film. Just recently, even Anushka Sharma, who has worn a bikini in Badmaash Company, said she'll never wear it onscreen just for the heck of it, and that she has no such scenes in Ladies vs Ricky Bahl. Guys, if all these statements are making you feel low, here's some good news for you. Sonam Kapoor, known for her immaculate sense of style, has declared that she is keen to wear a sexy two-piece swimsuit. The Players actor told a newspaper recently that she has worn decent outfits onscreen – from angrakhas and salwar-kameezes to jeans, skirts and vests – depending on her character. So if she is playing a character who is on the beach, then she'll wear a bikini too as it is the correct outfit for such a setting. She does wear it in real life, so what's the problem wearing it onscreen, she asks. She also readily admits that she doesn't have the required figure yet so it will be a while before she agrees to wear a bikini on screen. So you guys happy now?
First Published: 3.40 PM IST 11.08.2011